Komal & Aniket's Kolkata wedding was one gleeful affair. From a vibrant & colourful Mehendi to a fun-filled Mayra ceremony in Bengali style, this Kolkata bride took the outfit game one step higher in every ceremony. Moreover, she stunned us with her glamorous engagement looks in a beautiful red lehenga & the way she donned the exquisite pink lehenga on her D-day was a treat to our eyes. The duo respected each other traditions & tied the knot with Bengali & Marwari customs.
Meet Komal & Aniket
How they met: 
"I got married in December 2019 to my boyfriend from college, Aniket. We have been dating for nine years now. Our relationship started with a fight and us disliking each other the first time we met. We got to know each other over the years, became best friends and fell in love eventually. We decided to tie the knot after our families met each other. It's been nothing less than a dream to know him and date him ever since. We wanted to make sure that we blend in both our traditions and customs, i.e. Bengali and Marwari. Our wedding too was as dreamy as our relationship."- says the bride.
Mehendi
"I had Mehendi on the 6th morning. We wanted the Mehendi to be a casual and intimate gathering. We kept the decor simple and quirky with some music and dancing. I opted for a blue skirt and crop top because I did not want to stick to the traditional hues."- says the bride.
Mayra
"We had Mayra on the 7th morning. Mayra is a traditional Marwari ceremony but we wanted the Bengali elements to represent our union. We ensured that there was dhunuchi dance and dhaak, and all the women were dressed in traditional red and white Bengali sarees while the men wore dhotis."- says the bride.
Engagement / Cocktail
7th evening was the engagement/ cocktail. The venue for the event was the highlight because we chose to do it on a barge. Although Aniket had proposed to me some time ago, we exchanged rings on the same day before our families and friends. We did not want a lengthy program for the sangeet so we decided to keep it short and had a band perform through the rest of the evening.
Haldi
For the Haldi ceremony, the gathering was only very close friends and family. We tried to get everyone in the family to wear yellow with the idea of having some uniformity.
Wedding/Reception
The wedding and reception was a grand event. I wore an onion pink Lehenga cause I didn't want to wear a mainstream red. This had a huge gathering. The rituals were done in the Marwari way but I entered with leaves in my hand as the Bengalis do!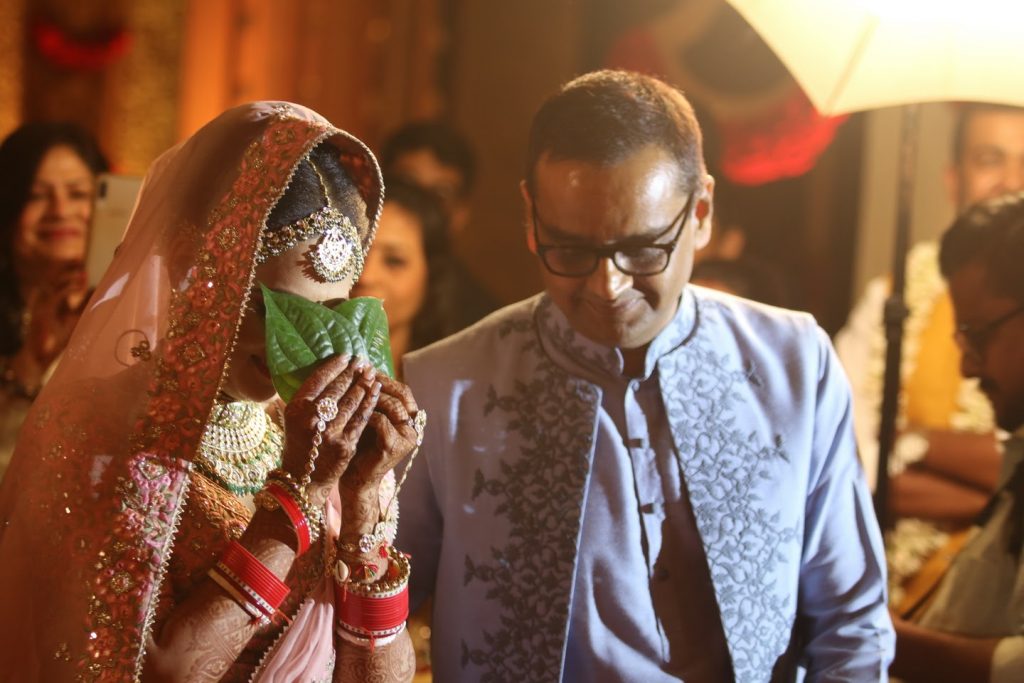 And here come the reception looks of the Bride & Groom!
Wedding Vendors
Venue: We wanted to get married in Kolkata because both of us are from there. We have spent a major part of our lives growing up there and we wanted to marry in a place that had significance in both our lives. Most of our family members and friends also stay there, and we wanted all of them to be part of our big day. Our wedding took place at the Westin Hotel, Rajarhat.
Make-up: I had seen Harsha Surana's work and I loved what she does. She created two of my main looks, both were magical. She made me look like the prettiest version of myself and was really cooperative. Above all, she made me glow naturally and it was exactly what I wanted.
Sidharth Verma (Prince Studio): Sidharth and his team did a great job at capturing some candid shots. He made the place so vibrant with his ideas and made us feel really comfortable. It was a great experience working with the team. I am pretty glad we chose them.
House of Sasha: Sakshi and Shailja helped me curate my bridesmaids' gift boxes. I personalized these gifts for each of my bridesmaids and handed these to them personally. They did a fantastic job by adding some quirky things to these boxes.
Baisakhi Flowers– Romit and his team are the best in town and did commendable work with the decor on all the functions. All the arrangements were apt and almost all corners could be used as a perfect backdrop for pictures. Personally, loved working with him.
So, this was a dreamy Kolkata wedding of Komal & Aniket with all Bengali & Marwari customs. If you too have such a wedding story, then mail us your submissions at [email protected]