Love is just a word until someone finally comes along and gives it meaning. So today to shoo away your lockdown blues, we have come up with a filmy lockdown love story of Neha & Rutvick whose love timeline will remind you of Kareena Kapoor Khan & Shahid Kapoor Bollywood movie "Jab We Met". Not only this cute couple filmy lockdown love will get butterflies in your stomach but their Western Theme Engagement ceremony at Mumbai's popular floatel will also give you love jitters. 
So, swipe down to have a glimpse of adorable couple & their Western Theme Engagement Ceremony.
Meet Neha & Rutvick
#RutzKiNeha
Filmy Lockdown Love Story
"When the whole world was cribbing & going through the worst pandemic of the century destiny had different plans for me. I met Rutvick in the lockdown when we were not allowed to even go out of our home. Before the pandemic, I was all set up to move to CANADA for work. Our introduction was done by parents with a typical arranged marriage scenario. But what happened later is nothing compared to a conventional arranged marriage. I still remember our first phone call which lasted hours, the best part was we won't remember what we talked about. That showed we were very comfortable even before meeting each other."
"Then there was no looking back, we went for our 1st date which was like our story was very unique & unusual. As there was a lockdown we couldn't meet for a proper date, our first date was on a sea face. What made it memorable was the rains, it was like some romantic movie scene, we both getting wet in rain & no one on the sea face (which is very rare in Mumbai. FYI, the benefit of lockdown) then I looked into his eyes and it made me skip a beat for the first time.
Completely drenched in the water we walked awkwardly towards his car and continued talking for hours. That made me realize the universe was giving me a signal. (As I am a big Bollywood fan I just remembered I am Kareena Kapoor getting wet it rains & he is my Shahid Kapoor singing 'tum se hi' to me.) Then more dates happened, hours of FaceTime brought us closer day by day."
"One more my filmy dream he made come true was getting proposed on a boat. It was my birthday (January), he knew I am very close to my family, he took blessings of my mom & dad, Made my mom select a ring & proposed to me on a boat in a sunset with the sea-link view. Therefore the Mumbai coastline has been important part of our journey as due to lockdown our all dates happened on one or the other beach, seaface & grand proposal on the boat."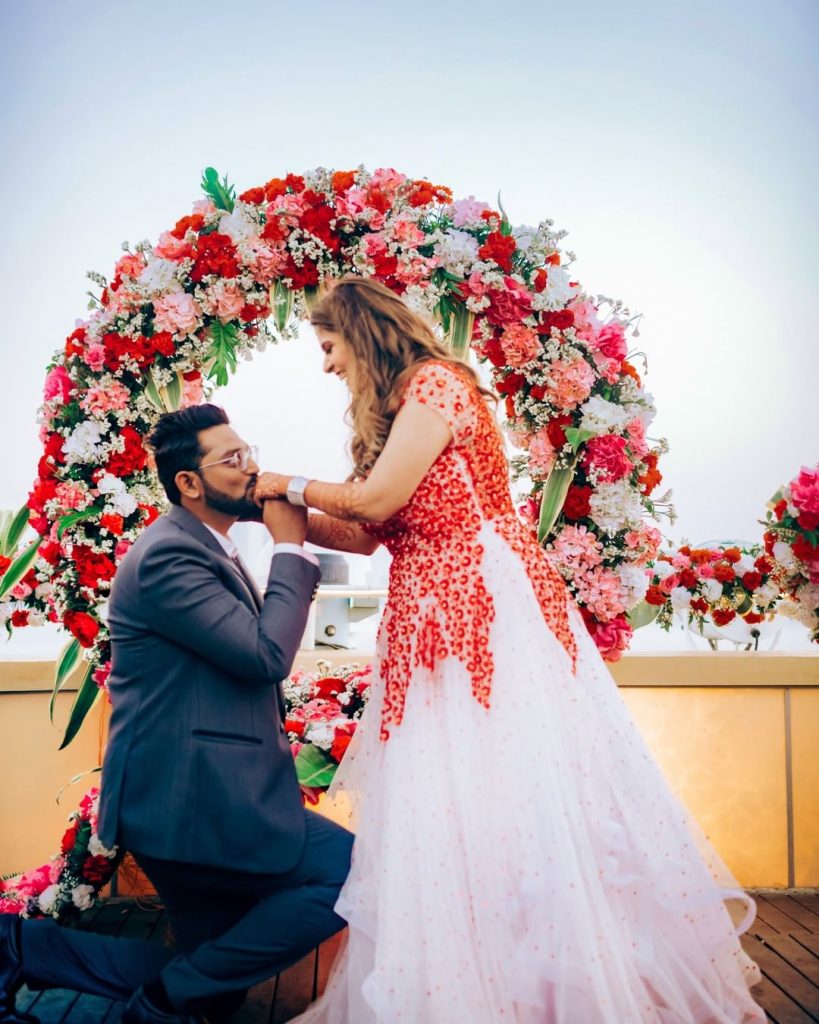 "This gave us an idea to carry out engagement on the same boat to make it more memorable & to share that memory with our loved ones. We wanted to do an uncommon event. So, the theme of our engagement was inspired by western weddings, no Panditji or saree or rituals. We wanted people to come & celebrate our love where it all started."
A Celebration Of Love!
"Giving unconventional touch to conventional arranged marriage our engagement happened, now we are looking forward to plan our wedding."- says Neha.
Couple Instagram Handles
Bride: @neha_2301
Groom: @rutzsrock
Hashtag #rutzkineha
Vendors
Bride's outfit: @asbaabofficial
Groom's outfit: @telonmen
Photography: @weddingkrafter
MUA: @nishachandnanii
Venue: @abcelestialfloatel
Decor: @thesoireestation
Event planner: @ineventplanners
If you too have such filmy lockdown love story then share it with us at [email protected] & get featured!
More Read: