True love is beyond physical appearance and flaws and it can endure everything if it means togetherness. Yes, it is the beautiful wedding story of Laxmi who got married to Shashi Bhushan on 19th December 2021 after 10 years of relationship. It's an interabled wedding story as Laxmi is differently-abled a wheelchair user. So here it is :
An Interabled Wedding Story 
We met on Facebook in 2010. We were in college at that time. He saw me on his schoolmate's friend list and thus sent me the friend request. I thought he must have been in my school in a different section so I messaged him asking whether we were in the same school and he responded with a no. That's how we got talking and ended up talking till 5 am!!! After that we used to chat almost every day and although he never told me I knew he liked me. We used to live in different states. Me in Delhi, he was in Patna and after that, he joined the college in Bhubaneswar.
9 months after talking on the phone, he expressed his desire to meet me one day. I thought he must be kidding as I didn't think he would come all the way from Orissa to meet a girl he met on Facebook. But he actually took a flight and came to Delhi and called me upon landing. I was very excited to meet him but nervous too so I took my best friend with me and that was our first in-person meeting. He proposed to me the next day but I was not ready for a long-distance relationship as I felt it will be very difficult for both of us to keep it. But he was determined to be with me
and promised me that he would come every month to meet me ..and he kept his words and again came the next month. I was so impressed by his determination and the efforts he was making to be with me that I fell so hard
in love with him and we got into a relationship I told him all the disadvantages of being with a special girl but nothing changed his love for me..
"After being in a relationship for 11 years we decided to tie the knot as we both were inseparable and meant the world to each other but we knew from the beginning that it won't be a smooth sail.. initially both our parents were
against this…but I convinced my parents and it was easy as they already knew Shashi since many years now but convincing Shashi's parents was seeming impossible. They were not even ready to listen to anything regarding
us getting married…Shashi tried his best to make them come around but it was not working out. So we got hitched in an intimate wedding with close friends and family.
And to our surprise, Shashi's family came around after our
wedding and gladly accepted our love Like every girl, I also dreamt of a beautiful wedding with my loved ones around but as I was specially-abled with a lot of challenges, we needed to plan it differently and we did…a lot of research went into finding a wedding photojournalist, searching a lightweight lehenga, finding a wheelchair-friendly venue and planning the bridal entry and many more things and we are glad we were able to pull it off beautifully.❤" – says the bride.
Wedding Festivities
Mehendi
"It was a 2-day event. On 18th December, there was Mehendi. I wore a multicolour lehenga in pastel shades and Shashi wore a kurta with a jacket matching the colours in my outfit. For décor, we kept tiffany's blue and hot pink theme with elements like dream catchers, kites, kettles etc. The Mehendi jewellery was customized according to my outfit. It was from @phuljhadi."- says Laxmi.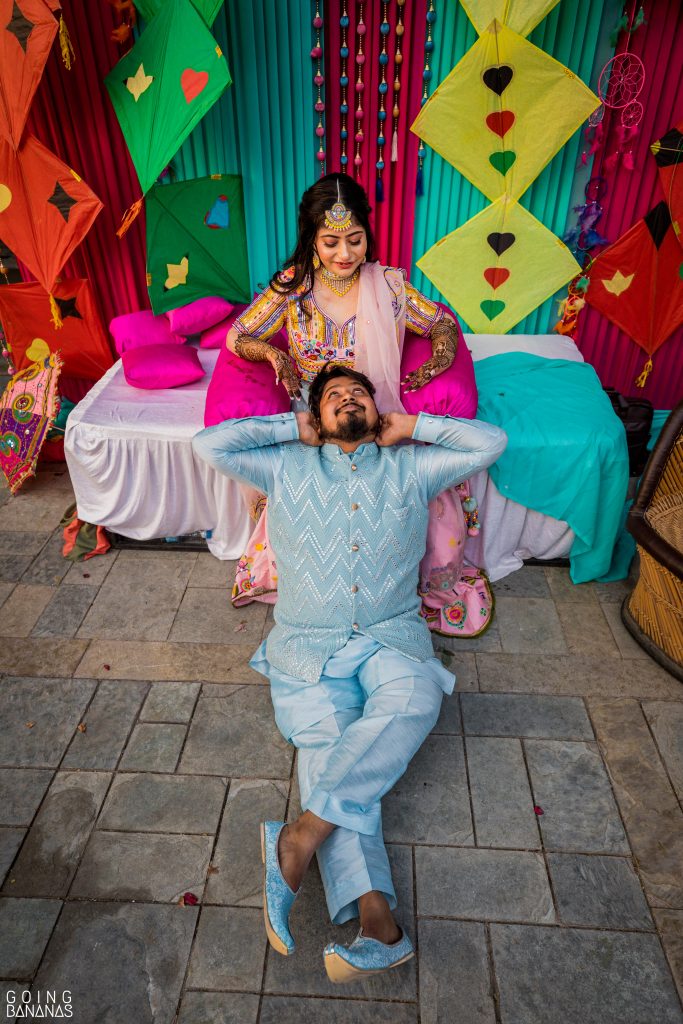 Haldi
"On the 19th morning, there was Haldi followed by the Chooda Ceremony. For haldi, we kept it very simple. As I am Punjabi and Shashi is from Bihar, I created a fusion look depicting both cultures. I wore a phulkari suit which is the cultural outfit of Punjab and paired it with a custom-made Madhubani painted (cultural art of Bihar) jutti. And I wore floral pink jewellery from @pruneindia."- says the bride.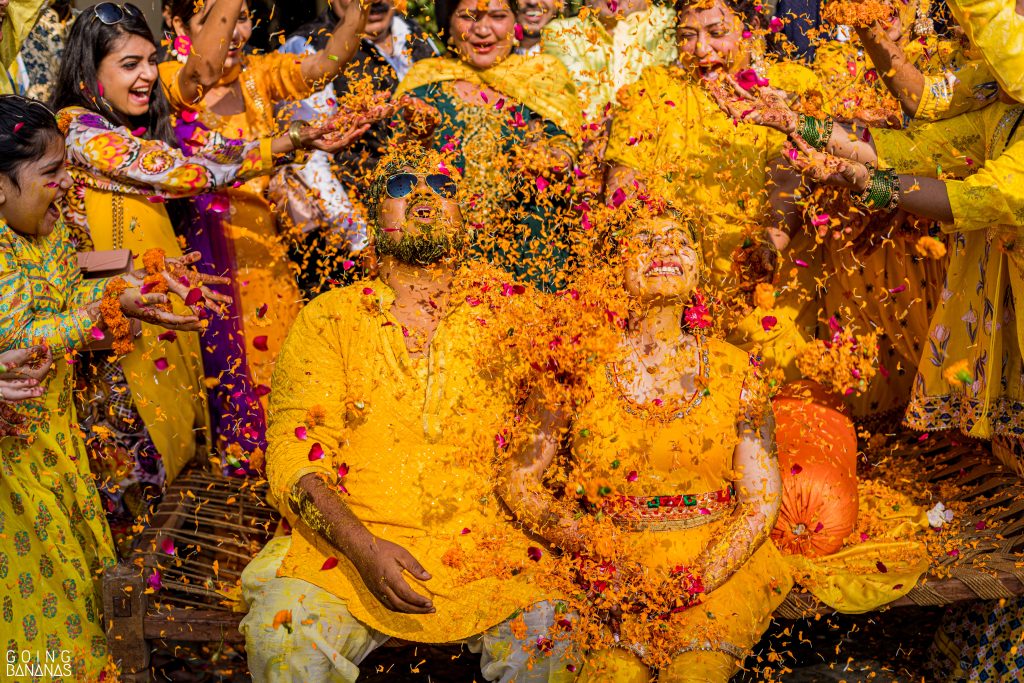 Wedding
"On the 19th night, there was the wedding. I could not carry a heavily embroidered lehenga so I decided to wear a pink Banarasi silk lehenga and paired it with uncut polka jewellery. The décor theme was peach and white with fairy lights all over."- says the bride.

 Piece of advice to other brides-to-be
"Don't stress too much over small things. Enjoy your day as it will be over before you even know it."- says the bride.
VENDORS
Venue: South Club Patio, Gurgaon
Makeup Artist: @makeupbyankana, @makeupbyspeastland16
Photographer & Videographer: @goingbananasphotography, @beingidiotic_
Wedding Outfit: @neha_khullar
Mehendi Artist: @srinivasan_mehendi_art
Jewellery ( Floral Jewellery, Bridal Jewellery): @raabtabyrahul,
@pruneindia
For more such beautiful wedding stories, keep visiting www.wishnwed.com and get inspired by such heart-touching love stories.