There are some very precious and memorable moments in everyone's life. Happiness, anxiety, nervousness and all other sorts of emotions swamp you as you near one of the most important facets of your life, the wedding day. Every girl dreams of becoming a bride since her childhood. She always fantasies about a fairy tale wedding. To complement, the beautiful wedding dress every bride is on a search for a perfect makeup artist who can help her gets the desired look for her big day.
View Minsen Beauty Parlour Portfolio
With over a crowd of people hovering around with 'oooooos' and "aaaaaahhhs", eagerly waiting for the bride to arrive. Amongst the entire bustling crowd, only the bride is the one who goes through a million of mixed emotions. Here are few things to keep in mind while hiring a makeup artist, in order to look and feel the best on your D-Day stress-free and hassle-free:
Do Your Research
The first step is to lay down your requisites and do a thorough research based on them. Shortlist the ones who meet the same. Take a look at their respective portfolios; get reviews from others who have hired those makeup artists. Another way is to go through the online portals and consider for those who are in your budget. This will save you a lot of time and energy.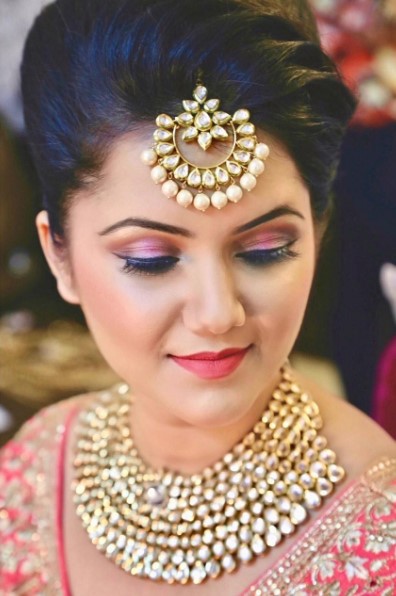 View Rupasso – Makeup by Pratishtha Arora Portfolio
Know what you want
Not only are you on the lookout for a skilled artist whose style you like the most but also someone who has an above-board professionalism with some extraordinary effects. Gather some pictures as a reference of various brides whose makeup has made an influential impact on you.
View Analsavaliya-The Orange Salon Portfolio
Check out to see if they offer a trial session before the actual wedding
Continuously, Always, Always… … Just like nobody will purchase an auto without having a test drive, so don't consider contracting a makeup artist without encountering their preliminary session all over on the grounds that it will influence you to feel more good on your D-day.
View Artistry By Sahej Portfolio
Hair and Makeup
Professionals always keep in mind the likes and dislikes of their clients as customer satisfaction is their utmost priority. Secondly, go through their portfolios of hairdos and makeup so that you can make a choice of what taste you are literally considering and aiming to opt for your D-Day.
Budget
The premier part is to consider your budget. Finalize a budget for your makeup and try revolving your research around it. If there, occur any consequences regarding the budget, you can try negotiating with your makeup artist so that you can make your dream come true on your big day. Also, keep one or two other options open till the time you don't finalize.
Talk to your artist regarding the skin type
Most of the brides don't bother this thing. But if you wish to get the best out of an artist, you need to notice whether he/she is able to understand your wants and provide what exactly you are looking for. Not only this, you should first make the makeup artist understand your skin type and also inquire what all products they will be using. So that your makeup artist is not mistaken about your skin type on your wedding day.
View Palka Arora Makeup Artist Portfolio
Listing Conditions and Getting Confirmations
It's always best to be safe than sorry. There have been endless situations when the brides have to go dry on their big day because either their makeup artist got sick or he/she had to leave due to some emergency. There are chances that these so-called excuses are lame and the truth lies behind the closed doors that they got some celeb makeups or high payout at the end time. Hence to avoid this frustration on your big day, brides should definitely list their conditions and should also get sign a mutual contract/agreement and also make sure to get the confirmation through email/written letter. Also its very important to keep in constant touch with the MUA and discuss regarding your expectations and the look that you desire.
View Rabia Hair and Makeup Artist Portfolio
The most significant day in every girl's life is her wedding day.  It's the day when all your dreams come true and we are sure that nothing else matters. All you want to do is look gorgeous on your big day and finally take the plunge. So, to save your time on hiring a makeup artist, you should follow the above. These will definitely help you in finding out the best MUA who will make you look nothing less than a princess.