Wedding by the beach with your loved ones by your side, what better can one ask for? Let's walk into the wedding journey of  Prasanna  & Kanisha who had a wedding by the beach in  Mangalore and planned all by themselves to the T. There is so much to love about the whole wedding and the highlight of the event is the special performance by the bride and bridesmaids on the most loved Shahrukh Khan's iconic movie songs.
Meet Kanisha and Prasanna
Prasanna and Kanisha share a unique connection as they have known each other for their entire lives through families, who have been acquainted for generations. However, we only truly crossed paths they both pursued the same career choices. Reconnected and started dating, and that's when the realisation hit that they were meant to be. Despite knowing each other for so long, only after six years did we both realise we were destined to be together.
Prasanna and I share a common professional background in dentistry, with him being an Oral and Maxillofacial surgeon and myself being a Prosthodontist. We both come from Mangalorean cultural backgrounds, which has helped us to understand and appreciate each other's traditions and customs. While we share these commonalities, we also have stark differences in our personalities and hobbies that complement each other. Our contrasting personalities have helped us to appreciate each other's strengths and bring balance to our relationship says the bride Kanisha.
Wedding Planning Journey 
Wedding planning is a tedious task and it takes in lot of effort support and planning to put together  all the pieces . Here's how the couple planned all by themselves.
After Prasanna proposed to me on my birthday, we took around a year and a half to plan our wedding.Initially, we had considered hiring a wedding planner, but after speaking to several of them, we realised that we would find more satisfaction in planning everything ourselves. As the bride, I was very particular about every detail, and I felt that I could better execute my vision by handling the planning myself. So, I decided to take charge of the wedding preparations, and it turned out to be a great decision. It allowed me to tailor every aspect of the wedding according to our personal preferences and create a unique and unforgettable experience for us and our guests. While it was a lot of work, I thoroughly enjoyed the process. In addition to planning the wedding ourselves, I was fortunate to have my best friend Bhaavni by my side throughout the entire process. From day one, she provided unwavering support and guidance, and even took on the role of my personal event planner.
Wedding Events
Our wedding date is unique. 02.12.22! And we wanted to have it from where we belong, in Mangalore, by the beach surrounded by only our loved ones says the bride.
The wedding  festivities was a  blend of Mangalore customs and  traditions  with the present day modern fun events and games.The events ranged from The wedding Mehendi – Flower Shower Mehendi, Sangeet – Sangeet by the Bay , Murtha,  Wedding Sundowner Cocktail. The decor  was all white for the wedding  and looked serene against the beach backdrop and it's a serene beautiful backdrop and the bride and groom stunned in their traditional attires.
The sangeet by the bay had family and friends dancing to the best bollytunes and not to forget the special performance on the most iconic Shahrukh Khan songs.
All the outfits for the wedding took over an year  from selecting to finalising , since Kanisha wanted them to be unique and special for all the events. The sangeet outfit  was super special as it had  all the sea elements such as corals, fishes and also their wedding date embroidered over the outfit.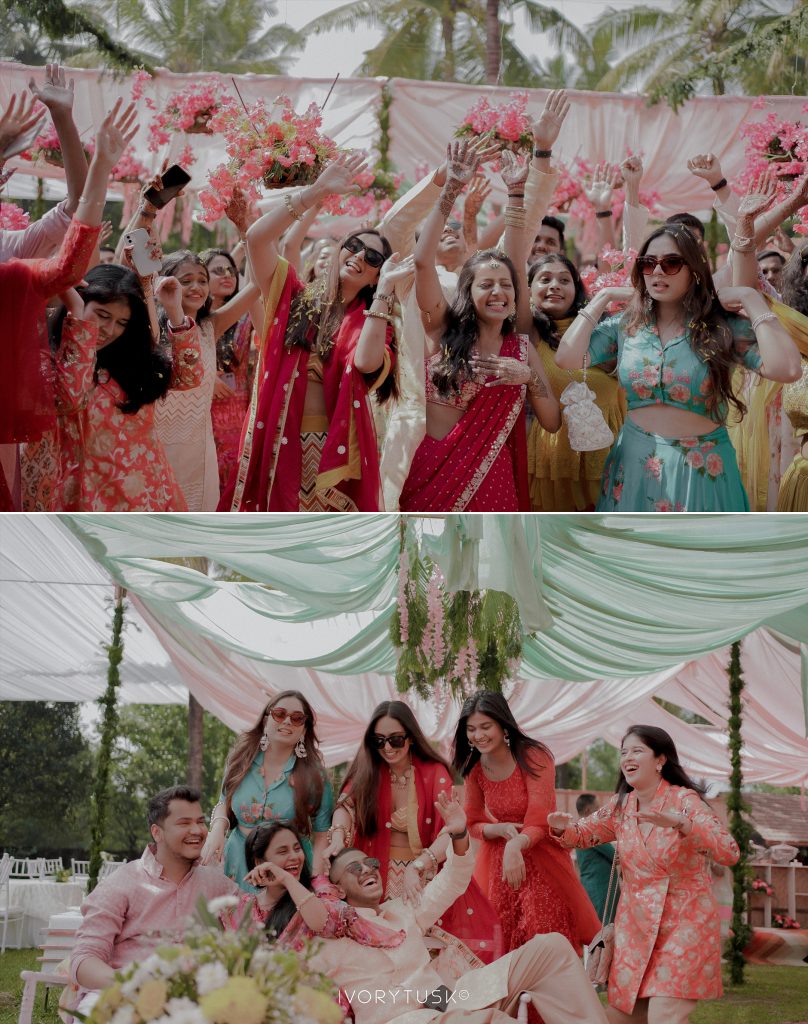 One Advice from the bride on wedding planning 
Plan your own wedding It will be stressful. But the joy of doing everything yourself is just amazing! I have never enjoyed any other wedding as much as I enjoyed and loved mine!
Outfits
Mehendi – Arpita Mehta (bride), Anita Dongre (groom)
Sangeet – Kresha Bajaj (bride), Tasva (groom)
Murtha – Vermillion (bride), Prasanna's father's wedding kurta (groom)
Wedding – Kalaleela, Kishandas Jewellery (bride), Tarun Tahiliani (groom)
Cocktail – House of Eda (bride), Zara (groom)
Vendors
Decor – Moulding Dreams
Photography – Ivory Tusk C
Choreography – Rahul Mallah 
Makeup – Gazal Surana
Venue: @sairadhaheritage
If you are also a bride planning your wedding all by yourself,  try  our wedding planner book that is specially  designed keeping  the DIY brides who like to keep it all organised and in control.