There are varieties of fantastic wedding decoration options and themes in the wedding market. But everyone has their budget when it comes to wedding decoration. And most people exceed their wedding budget due to overspending on decor. It happens because you don't brainstorm wedding decoration ideas on a budget. And sometimes, you lose track of your personal style.
You can create a beautiful ambiance at your wedding with less decoration expense. Let us provide you with some clever tips and trick for stunning but budget wedding décor:-
Go Local With Flowers:
Wedding decoration can't be completed without flowers. They give a cheerful and lively touch to the whole atmosphere. But it's a myth that exotic flowers can only make your decoration look outstanding. Indian roses and marigolds look as radiant as tulips or carnations. By choosing locally grown flowers, you can give a classic and vintage theme to your wedding and save a lot on wedding flower costs.
Decor by: altair_decor
Lanterns & String Fairy Lights:
You can save on electricity costs by choosing suitable lighting in an open-air venue. Lanterns and string fairy lights come at cheaper rates than lamps and chandeliers. And they consume less electricity. To top it all, they give a retro and stunning look to your wedding.
Source: dreamzkrraftweddings
Centrepieces from Reusable Material:
During a function, people sit on tables to eat or chat with others. So they are distracted to notice a table centerpiece. Thus it doesn't make sense to arrange expensive table centrepieces. You can make them from used glasses, wine bottles, and small flower vases at your home.
Source: wed_cell
Chandeliers Craft:
As explained before, chandeliers can be avoided in a budget wedding décor. But if at all you need them, learn the craft of making the chandeliers on your own. The DIY chandelier will be much less expensive than the designer models in the market.
Welcome With Chalkboard:
Replace the old-fashioned giant flower gates with a colorful chalkboard. Ask your guests to write a personalized message for the bride and groom. Your guests will feel engaged, and you will save on unnecessary expenditure. A chalkboard can be decorated with artificial flowers and ribbons.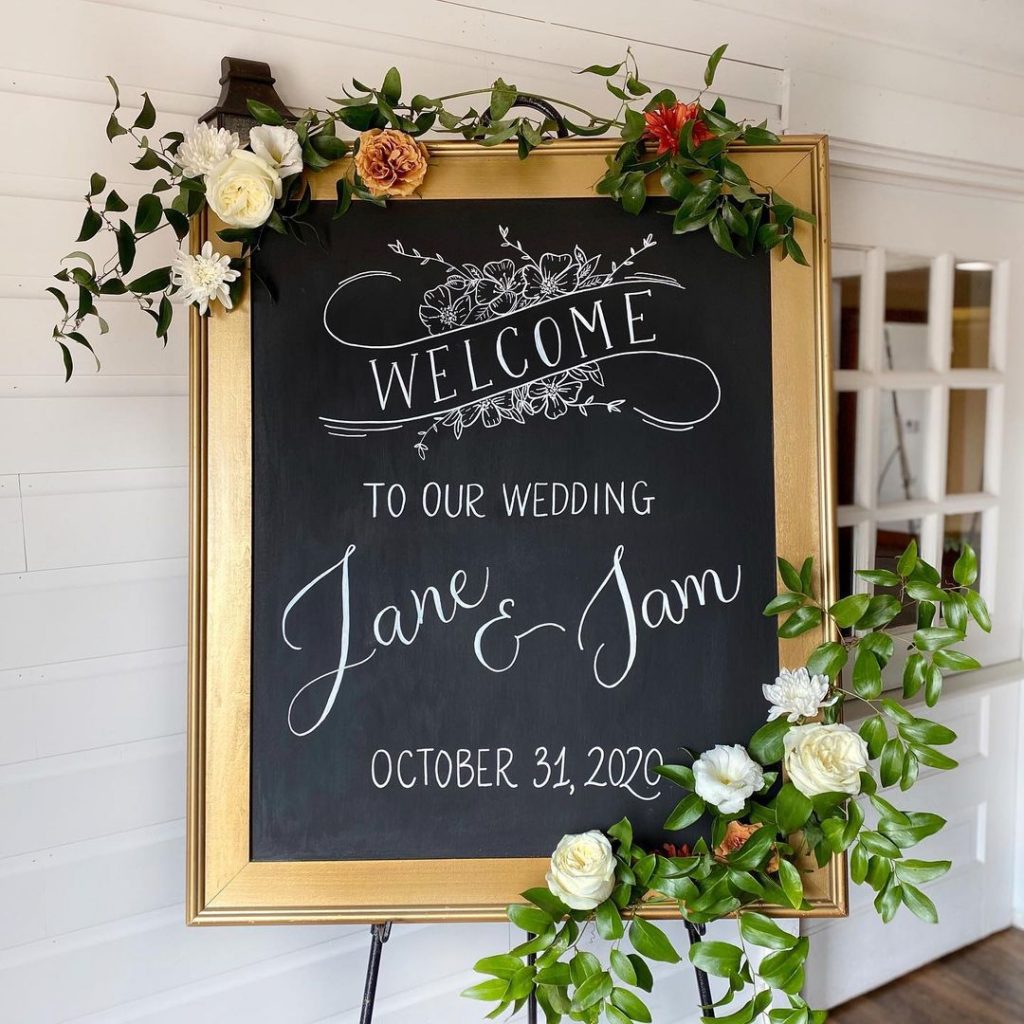 Source: calligraphybycarole
Return Gifts:
Contact the wholesaler and manufacturer directly for your wedding's return gift. You will purchase in good numbers. Therefore they will sell it to you at a lesser price. You will save the retail money margin by going to wholesalers directly instead of a shopkeeper.
Use Copper & Brass Showpiece Utensils:
When it comes to the Indian wedding aura, copper and brass fit the look perfectly. It gives the whole arena a golden touch on a basic budget. Arrangement of brass and copper vases and other giant utensils as showpieces is a great budget wedding décor idea.
Decor by: altair_decor
Photo-Booth Decoration:
A photo booth can be decorated with simple and inexpensive items. Some flowers, greenery, drapes, and origami props will look fabulous. A local photographer can rent you some decorative objects.
Source: dreamzkrraftweddings
Wedding Seat or Reception Chairs:
Your wedding seat can be decorated with local flowers. The reception chairs and stage can also be decorated with drapes and local flowers. You can decorate a gazebo or swing instead of traditional reception chairs. You can easily find a swing in your or your friend's house. These out-of-the-box budget wedding décor ideas will make your wedding stand out without disturbing your budget.
Source: dreamzkrraftweddings
Takeaway!
These were some tips to manage your wedding decoration in your budget. You can similarly put a leash on other wedding expenses like a wedding dress, venue, and menu. Despite planning and organizing, your wedding budget can go out of your hand. In such a case, you can opt for an instant marriage loan.
AUTHOR BIO:
Shiv Nanda is a financial analyst who currently lives in Bangalore and works with MoneyTap, India's first app-based credit line. Shiv is a true finance geek, and his friends love that. They always rely on him for advice on their investment choices, budgeting skills, personal financial matters, and when they want to get a loan. He has made it his life's mission to help and educate people on various financial topics, so email him your questions at
[email protected]