COVID -19 Outbreak has changed the face of Indian Wedding. While Big Fat Indian Weddings were trending scenes and now Intimate Weddings are breaking all the trends. Intimate weddings at home are the new normal and we aren't complaining either. However, if you are in a fix on how the home weddings will unfold, here's our guide which will help you plan the wedding of your dreams at home. These home decor ideas for intimate weddings are easy to DIY and you will be able to source the items without running pillar to post.
Okay, the best part of having a wedding outside gives you an advantage of various backdrops for those beautiful pictures. But, worry not you can also bring that magic home with these Home Wedding Decor Ideas For Your Intimate Wedding and here's how.
Floral Backdrop for the stage
Flowers are in abundance in the spring, so you can always use natural flowers for the backdrops. All you need is a few beads, threads and a needle. Make long strings of flowers, you can choose to keep it in a single colour tone or make use of multiple flowers. Roses and marigolds are easily available and if you can't source real flowers you can order artificial ones online. You can make floral strings and stick them to the wall or to the curtain rods,  you can also make different shapes out of them  Alternatively, they can be used floral hangings too.
Floral Decor by Verti Flower Decorators
 Decor by:  With Love Nilima
 Shop these artificial flowers online  HERE
Paper Craft
It's a perfect time to put those art and craft lessons to good use, there is so much you can create from old newspapers, gift papers and colourful papers. Origami can be used to create birds, butterflies etc and you can add them to your house decor. Paper lanterns, huge paper flowers can also be created at home. They can be used as a backdrop for walls or ceiling hangings.
Origami Decor by The Wedding Designers
Learn how to make these beautiful paper cranes  on Youtube
Well, if you have no time to create on your own you can order them from  Amazon Here
Decor by The Wedding Designers
You can also  DIY these stars at home here's a tutorial on Youtube.
Or if you prefer ordering them on the go then you can order them on Amazon Here
Source:- Etsy
Aren't these big flowers a sight to behold, well you can make these at home and  Wow everyone with your creativity. Here's a tutorial on You Tube If you wish to order them online  click here 
Drapes and Buntings
If you don't have much time to create something from scratch go drapes way. Choose drapes in different colour combinations and you can use it with buntings that are easily available online. If you plan to have an outdoor setting you can use drapes as a roof with parallel buntings or van also be used as a backdrop for walls.
          Customized drapes by Wedding Kart
Order them Here
Pic Credits: The Wedding Salad
Fairy Lights
Fairy lights can immediately amp up the decor with just a little effort. If you have a garden and plan to set up mandap outside hang those fairy lights in the trees around to give it a stary effect. You can also make a temporary ceiling with fairy lights as standalone or coupled with the drapes.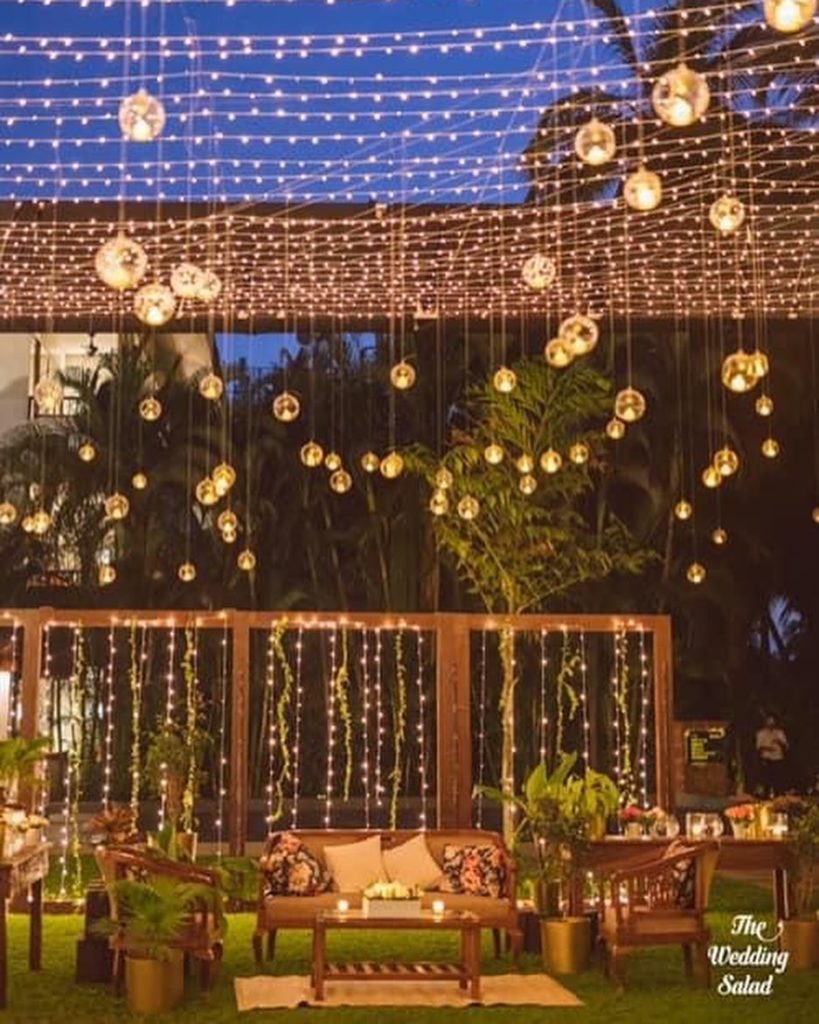 Decor by: Atisuto Events
Seating arrangements
Plan a designated seating area and colour coordinate the drapes with the cushions, bolsters and sheets. Make sure to choose a subtle colour theme across and follow the same colour theme for one area. You can either shop for similar colour tones and if you want to go bohemian way grab some pompom, tassels, laces and give your cushion covers a makeover.
Image Source: Q Weddings And Events
Photobooth
Creating a photo booth is as easy as you can think of. Here are different ideas you can use to create multiple photo booths around the house.
Use empty boxes
You probably have a lot of empty boxes from your online orders lying at home or you can also use empty boxes sourced from the fruit market or your old trunks.
1. Open them all lay flat, stick with tapes together, pin against the wall, paint them up, put out your big initial monogram on the background or write out some funny slangs etc on them. Here's a guide for you to how to create it 
Here's how you can create Monogram at home: Tutorial
Image Source: Taarini Weddings
2. Create slang props out of those cardboard boxes or order online from AMAZON here.
3. Paint them up and stack up against the walls, couple them alongside small miniature garden and pots and you are good to go.
Image Source: Razzmatazz Events
4. Photo Frame/Instagram Stand: Bring your Instagram wall to life with the cardboard, cut a rectangle with the cardboard or you can also frame out of cardboard boxes and stick them together to form a rectangle. Paint it to give it a look of your gram wall.
5. Old Wine Bottles /Glass Bottles / Tea Cups/ Trunks
Don't throw away your beer bottles/milkshake bottles / Teacups etc. Paint them in different colours and patterns and suspend them with the help of threads. Alternatively, you can also use them as centrepieces. Paint your old trunks and make them a part of the decor.
Shot by – @1plus1studio
6. Old cycle or rent a rickshaw
You can rent a rickshaw for a day, decorate it up with some flowers and place at a designated place in the house Alternative you can make use of your own cycles at home or scooty and decorate them up to be used as a prop.
Image Source: Rajesh Satankar Photography
7. Umbrellas
Umbrellas are very commonly used at banquets as decor. You can replicate the same at home as well. they are easily available online or if you have some plain umbrellas at home you can pant them up and give your own twist to these umbrellas.
Image Source: And Events
These umbrellas are easily available on Amazon you can shop them HERE
Candles
Candles have an old-world charm to them. Light up every nook and corner with the candles. You can use some aroma diffusers along with them to not only light up the corner but also making everything smell divine.
Designer and Styled by @atisuto_events
PC – @shreyasenphotography
Photo wall
Use one wall of the house as a photo wall. Print your photos from childhood since the current time and hand them on the wall along with string lights. It will walk you and your guests down the memory lane.
Rangoli
Well, at home wedding decor is incomplete without the Rangoli. Rangolis are an integral part of festival celebrations in India and the wedding is no less than a festival … Create colourful Rangolis at different areas of the house and also top the up with floating candle arrangements around them.
Counters for wedding favors
Designate an area for wedding favors. Place two to three tables and use a nice table cloth or sheet. Place your wedding favors on them, you can leave customized wedding favors for each guest with a message. You can setup bangle bars, green plant favors, or even sweet boxes don't forget to label the tables, you can use chart papers to design the titles.
Fun and entertainment
Who says you can't have a fun DJ party at home. Prepare in advance create a fun playlist for all wedding events and assign a person in charge of the music. You can also have at home antakshari setups, passing the parcel, Jenga, dumb charades, musical chair, pyjama party. You can arrange mattresses on the floor some quirky cushion for the support and you are all set for at-home entertainment. To add Bollywood touch to the setup, you can create customized posters from your favourite movies designed with your faces on the posters and display around the premises.
Shot by – @neetashankar
TeePee Tents as Decors
Tee Pees are a good idea if you want to have floor seating. It works exceptionally well for day as well as night functions. You can use drapes and fairy lights to give that extra jazz to the entire setup.
Decor: @altair_decor
Photography: @reelsandframes
Wedding planning: @shaadisquad

Wedding Planned & Managed by @whistlingteel.
Photographers – @vowsandtales
Venue – @regentalpvilas .
Mandap Decor
For mandap, you can lay down mattresses and cushions for seating for the guests and place natural plants around. Make sure to colour coordinate the entire setup. You can deck the four pillars with flowers and drapes and also use string lights. Instead of chairs, you can use some beautiful cushions for an added comfort.
Photographer | @photographick
Planning & Design | @dreamshaadi
So instead of fretting over the idea of a home wedding, bookmark your ideas, prepare your to-do-list, shop for the essentials that you need and plan your own intimate wedding. The joy of creating everything on your own and seeing your house transform into a beautiful wedding venue will be a lifetime experience and something to cherish forever and beautiful pictures of your intimate wedding will remind you the fun you had planning your wedding.
Check out this   beautiful DIY MEHENDI & HALDI CEREMONY BY THE BRIDESMAID