Intro
The celebration of Divya Ganatra and Darshan Majethia's glitzy-glam wedding at Le Meridien Resort & Spa amidst the mystic hills of Mahabaleshwar was an affair to remember as the forest-themed wedding marked a beautiful union of two souls promising to love each other for a lifetime.
About the Couple
Darshan and Divya first met at their workplace. Much like in the movies, Darshan had fallen in love with her at the first sight itself and knew she was the one in an instant. After several weeks of violins playing in his head every time he would see Divya, Darshan found his cupid on Facebook and they started chatting for hours and spending quality time with each other. It was a long wait for Darshan, but his persistence paid off handsomely when months later, Divya said 'YES' to his proposal in the backdrop of a glistening sunset in Goa, the same place where they expressed their feelings for each other.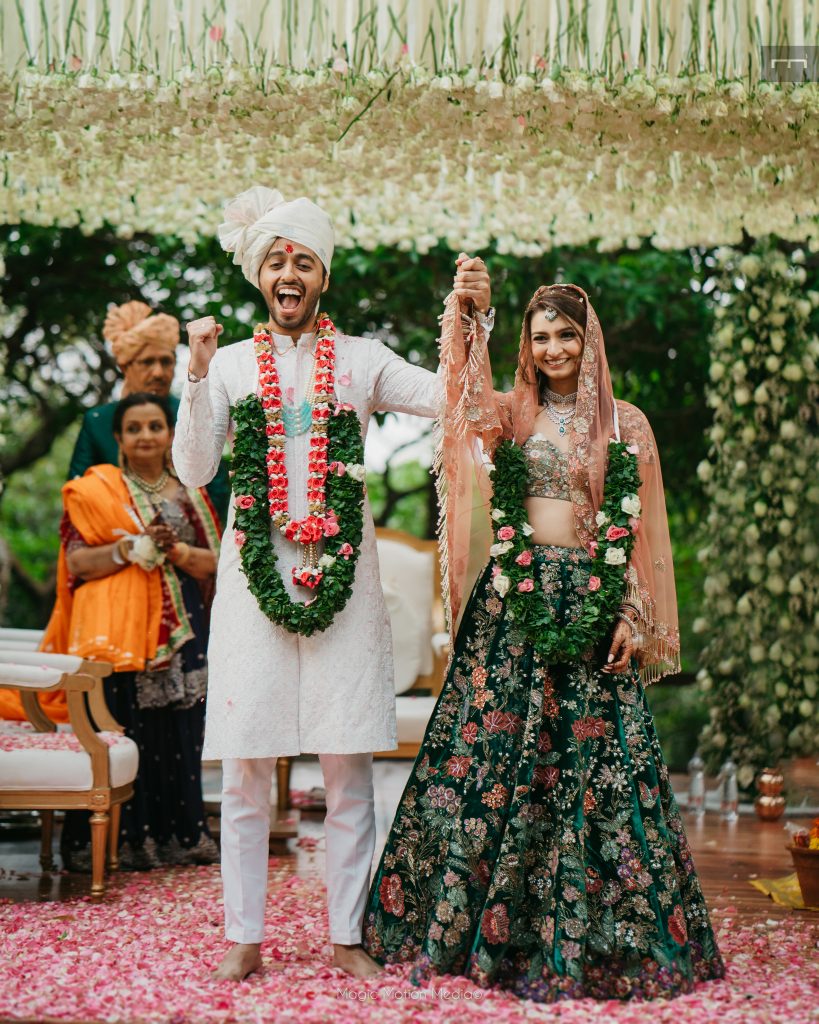 About the Functions
Spread across 3 eventful days, Darshan & Divya's wedding was an intimate affair involving only their closest relatives and friends. Chalked out in intense detail from start to finish, every function had an elegant and tasteful set-up thoughtfully curated to not only match the vibe of the bride and the groom but also make their guests feel at home. A musical wedding filled with lots of love and dancing, the festivities began with a Mehndi event. The bride and groom rocked in bold colours and prints, as they danced in a drum circle organised by their friends, kickstarting the band, baaja, baaraat scenes in style. The background had huge pots of bougainvillaeas in various colours along with acrylic signages, while acrylic chairs were used for the seating arrangement to let the
colours pop.
Resonating the compatibility of the lovebirds, their outfits matched the decor in every function. The 'IT' couple exchanged rings in an indo-fusion eclectic vibe put together in the shades of berry red, black and sparks of gold. It was further enhanced with floating candles inspired by The Great Hall in their favourite Harry Potter films. A glitzy night under the stars, their glam Sangeet witnessed their friends and family dancing the night away to the betrothed couple's beloved songs on a concert-like stage with LED graphics and lights. While their engagement and reception night was graced by a band playing their favourite tracks throughout, they had a Gujarati-themed Haldi with Bandhani and Lehrya as the dress code and Garba songs playing in the background. The decor involved terracotta pots, a spinning wheel and orange and white marigold flowers. Every night, the DJ played a pre-discussed playlist of Divya and Darshan's favourite songs during the sizzling after-party.
Detailed to the tee, the functions included a unique perfume bar for guests to take home their own personalised scent. In fact, even the cocktails were personalised based on D&D's favourite movie characters. Besides, every function had easy access to mints and bath salts to keep the guests feeling fresh and relaxed throughout.
'
On the wedding day, Divya walked in a green and white meadow, designed to match her green lehenga and Darshan's white sherwani on the lyrics of "Turning Page By Sleeping At Last". The rest of the wedding was tuned to the soulful music of a flute. A forest-themed wedding, the seating arrangement involved wooden benches that looked like tree barks and a fog machine was used to create an illusion of the same. The most beautiful halo was created with white roses suspended from top and green vine made the pillars of the mandap.
The same setup was transferred to their reception, a classy black-tie affair, where dinner table tops were suspended from trees to replicate a swing and each of them had a chandelier on top of it. The reception had their close family and friends giving the most heartfelt speeches amidst warm cosy lights, making it look absolutely surreal. There was also a photobooth with pinky fingers intertwined to showcase their togetherness and love.
Their digital wedding invites included white lilies and greens in sync with the theme of a forest and reusable jute bags were used for their in-room hampers. Ending it all on a quirky note, Darshan's favourite popcorn was chosen as a parting gift wrapped in brown recycled bags labelled, " Thanks For Poppin By".