WhatsApp Wedding Invites, Digital Wedding Invites or e-invites they've been a part of wedding invitations since quite a few years now.  However, in pandemic e-invites has become a rage their popularity has increased multifold, thanks to the convenience and versatility. COVID has changed the way we celebrate weddings and wedding invitations are no longer relied and restricted to paper invitations and boxes. Thinking of WhatsApp Wedding Invitations and don't know where or how to get started ? This Know It-All Guide to WhatsApp Wedding Invite or e-invite or digital invite will help you plan and opt for an invite that best suits your occasion.
Terminology

 
WhatsApp Wedding Invite or e-invite or digital invite all these terms may sound confusing and different but they all are the same when it comes to functionality.
An invitation that can be sent online through medium such as e-mail, WhatsApp, Telegram, messengers etc. are generally termed as e-invites and digital invitations. WhatsApp wedding invitations is a more generic term used for e-invites as they are popularly shared through WhatsApp.
Different Types of Digital Invitations
Digital Invitations though may be called by different names and function as same but they do differ in terms of the format. Here are the options that you have and can choose depending on your interests and the budget.
Image Format
Image Based Digital invitations are basically JPEG and PNG files  you can say picture  based invites.  Get creative as much as you like, it's like a canvas and you can bring your vision to reality. You can create  tradition indian wedding invite representing different cultures, how we met journeys to simple text based invitations. The e-invites can be sent out through WhatsApp, E-mail and even shared on social media.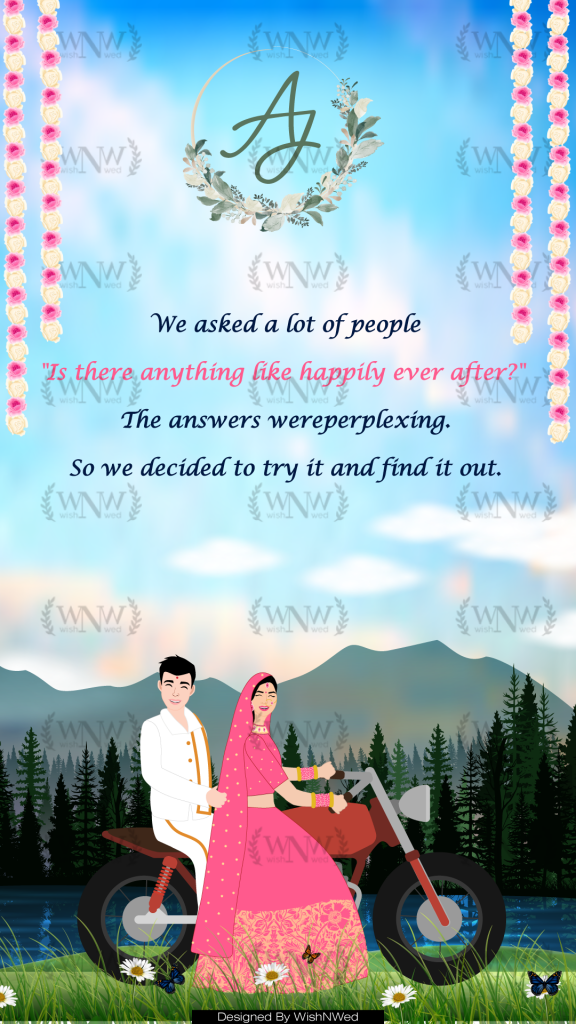 PDF Invites
Pdf invites in away are similar to Image based invitations difference only being that they can consist of multiple pages, with events sprawling around different pages . PDF invites are best suited for   invitations that contain lot of information and have various events spread across different days. The biggest advantage PDF invites have over Image Based Invites or for that matter video invitation too is that they can incorporate clickable links. With clickable links on the invitation itself you can include direction on map to the venue, your link to live streaming on YouTube.
Video Based Invitations
Video based Invitations are the most popular and loved format of WhatsApp Wedding Invitations.  Video Invitations are interactive owing to animations and music feature that engages the guests. Couples are now taking to WhatsApp video invitation to showcase  their love story through invitations.  It's best to keep the videos short and sweet and not  clutter them with too much of information . Video invitations can be made in 2D  and 3D formats. The timeline for creating them varies from 3 days to 6 months. WhatsApp allows only 16 MB of video/pictures  to be sent across  it's platform which is approximately 2 minutes of video. In general a video invitations ranging between 45 seconds to 70 seconds on an average is the best . For videos higher than 16 MB or longer videos you can send the invitation as a document on WhatsApp.
GIF Invitations
GIF's are cute and we all use them mercilessly when it comes to chatting, they are a form of sharing our emotions in an fun way. How about creating a fun GIF invite? GIF invites are short and cute 10 to 15 second invitations. The information here is crisp and to the point, best suited for wedding announcement , Save the Date , Wedding Countdown  where the information is not too much . GIF'S include animations, however music isn't supported by GIF formats.
Wedding Websites
Wedding Invitation websites are widely used and though they may not be as popular as video or image based invitations they have a fair share for themselves when it comes to invitations. Wedding Invitation websites  are kind of have it all ,  you can add as much information as you want without it looking like an overdose of information. Website based invitations may  sound complicated and a herculean task to complete but there are many websites, like Wish N Wed which have pre designed wedding website templates and all you need to do is add your information and Voila your personal  wedding invitation website is ready in minutes without you having to leave the comfort of your home.  With wedding websites you can add your pictures, locations and for sending out to your guests all you need to do is share your exclusive wedding website link.
What Format will be best for you?
Now that you know, that you can choose from multiple options available you can decide the type of format depending on your budget, the amount of information you want to share an and your preference. When it comes to creativity all formats have no restrictions you can have your illustrations, doodles, caricatures in all these formats.
How much does a Digital Invitation Cost?
Well,  when it comes to cost it definitely comes with a plethora of options you can create one for absolutely free online and then there are some that go up to Lakhs depending on the format, design, detailing and information that you want to send out. There definitely isn't a one size fits all. Depending on your budget, select the format and designer you think will be the best for your requirement.
How much time does it require to create a Digital Invite?
The time duration required to create an e-invite can range from a few hours to 6 months. If you want to create on your own pick a template and edit online and it will be done in a few minutes to hours. If you choose to pick a design service then depending on the availability and the timeline. An ideal time frame for booking the wedding invitation designer should be minimum 1 month in advance from the date you send out invites, this is to avoid last minute panic booking.
Where can I create a Wedding Invitation Online?
You can create Save the Date Wedding Invitation and wedding invitation website right here on Wish N Wed absolutely FREE on your own. However, for wedding video invitations, GIF invitations, custom couple wedding illustrations, wedding Instagram filters etc. you can book our personalized services.
Here are also a list of few other apps and websites where you can create a free wedding invitation
1. Minted
2. Wix
4. Animoto.com 
5. CANVA 
Things to take care of before creating a WhatsApp Wedding Invitation
1. Have clear ideas or vision of what you are looking for; this is essential as it will save time and your cost too. Internet is flooded with templates      and samples and this could create unnecessary confusion, so have your ideas written in one place and see what is best for you.
2. Have everything in place, from content, venue to timings in advance to avoid changes.
3. Before selecting a design service, go through the policies and procedures thoroughly.
4. Book in advance
5. Pay attention to the details.
Things to pay attention to while creating and sending out Digital Invitations.
1. Stick to your theme, there's nothing better than a well coordinated wedding from invites to décor.
2. While sending out invites do not FORWARD, send out invites individually in that case also do not send invites in group, personal messaging is best to give a personal touch.
3. Pay attention to the time duration, font selection as the invitation should be readable and not too fast or slow.
4. PROOF READ, PROOFREAD, PROOFREAD
Pandemic or no pandemic digital wedding invitations are the way forward, times have changed, technological advancements and internet access has made it possible to switch to more greener and eco-friendly alternatives.