Have you started receiving cutesy little Save the Date wedding invitations on WhatsApp lately?  Well, digital wedding invitations are all a rage and are now an essential part of the invitation process. If you have always been fascinated by the process and how to source these e-invites, here's your answer. Save the Date Invitations can be for any event and sent via WhatsApp, e-mail etc. Both free and paid Digital Invitations templates are available online that will perfectly fit your party, events and wedding themes. At Wish N Wed, you can create your own Free Save the Date Wedding Invitation Online within a few minutes using our free online invitation maker. 
Wish N Wed's online invitation maker is easy to use and you do not need any design experience to create a free Save The Date invitation card. No software download is required everything is online. Once you have the dates you can start creating your invite.  
Follow these Steps to Create a Free Save the Date Wedding Invitation Online. 
Step 1
:
Open Wish N Wed Website and click on Digital Invitations, from the menu bar select Save the Date Invites  
Step 2 :
Scroll through the invites and select the template you like and Click on Start Customizing  
Step 3
:
Login/ Sign Up to the Online Invitation Maker tool. If you are our existing user then fill in these details.
Otherwise, click on "Don't have an account? Click here" mention in the below image
Step 4
:
Fill in the "Sign Up" form to get register for free to start customizing the design mentioned in the below image.
Step 5
:
Under Save the Card option click on Get started Now!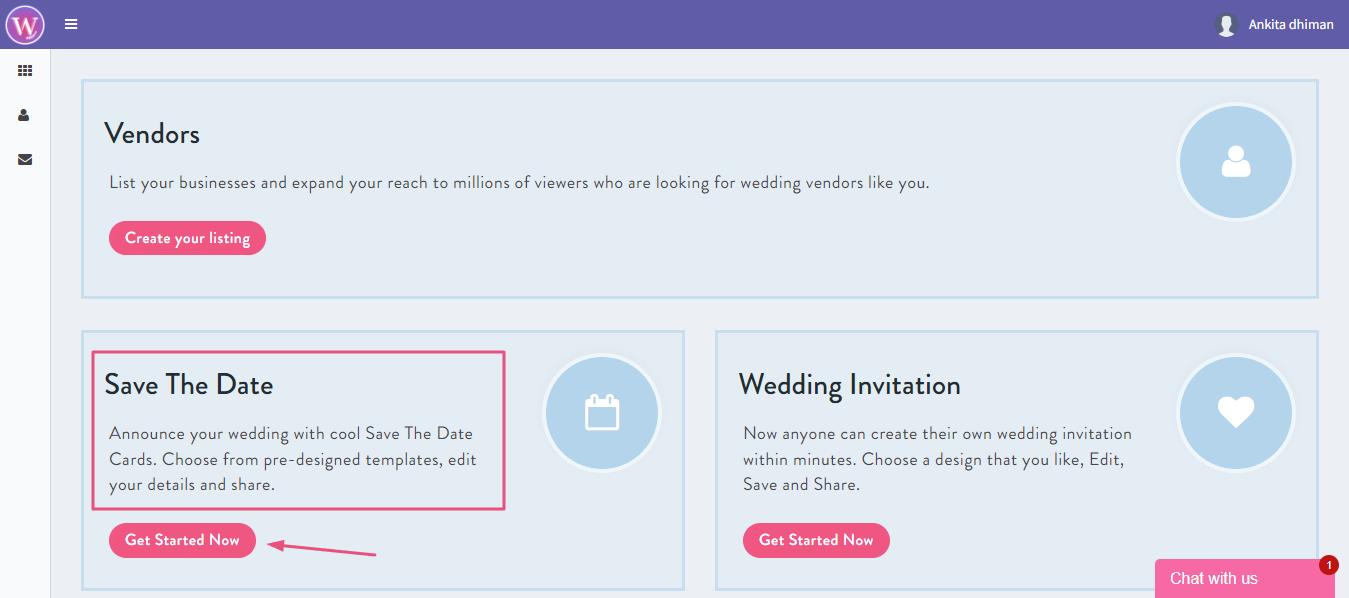 Step 6
:
The templates will appear and you can click on the "View All" button to view all templates.
Step 7
 :
Select the template to Customize the template you like. 
Step 8 :
Customize your Free Save the Date with icons, images, and stickers and you can choose different fonts and colours to customize the text. 
Step 9 :
Click on the "SAVE button" and add your details once the project has been successfully saved, Click on the "Download button" to save the invite design in JPEG format to your device or mobile. 
Your invite is ready in just Simple 9 Steps and ready to be sent to your family and friends. 
There is no limit to the number of times you create free invites on the invitation maker. Try multiple Save the Date card templates and you can choose the one you like the best or use different templates for your guests. The Save the date templates are completely free without any watermark. 
Wish N Wed Invitation Maker tool is loaded with Indian Wedding Invitation Templates, Contemporary and Modern Floral Invitation Templates, and Illustration Based templates so you have wide options to choose from as per your liking. There are stickers, symbols, and frames and you can also upload your own images to save the date template too. 
Sending the Invite
The invite will be saved in JPEG/PNG format that is supported on all devices. You can share it via WhatsApp, Email and also post it to your social media.  
Answering Commonly Asked Questions
1. Do Save the Date Cards have RSVP
No RSVP is not available in Save The Date cards. 
2. What if we make a mistake can it be edited?
The card will be saved in your Wish N Wed account, you can log in again, and customize the saved card with your edits. Unlimited edits can be done to your invite. 
3. Do we need a subscription to use the invitation maker?
No subscription is needed but a login is required. 
4. Can I make a fully Customized invite?
Our team can design a fully customized design for you but they come under our premium offerings and require a minimum of 7 to 10 days to create. 
5. Can we make a Save the Date Video in Online Invitation Maker?
Currently, only JPEG can be made, videos are not supported. For Video Invitation you can opt for premium service.