Bridal Jewellery is very personal, irrespective of whether it is real gemstones or a piece of imitation jewellery. A wedding look is incomplete without the jewels to compliment the wedding outfit. 
It's best to start looking for bridal jewellery after you have decided on your outfits for wedding festivities. Thanks to technology, we have access to buying the best and most unique jewellery from all across the country from the comfort of our homes.
While some may argue that it's best to try on and then buy, there is a return & exchange policy that you can use at your disposal if you receive a defective or not up-to-the-mark product. Hence the idea to shop for bridal jewellery online isn't bad after all. Even if you don't fancy shopping online you can always scout for ideas and use them as inspiration while shopping in stores. Keeping in view the latest trends and styles here is the list of websites where you can shop for wedding jewellery online. All these stores are semi-precious or imitation jewellery stores.
Attrangi
Attrangi a brand that lives by its name is a unique jewellery brand that has stylish and statement pieces at affordable pricing. Each jewellery piece at Attrangi is handcrafted and with its pretty aesthetics, they are sure to make you stand out. They have a plethora of options to choose from and definitely will be spoilt for choices. Jewellery sets, head gears, chokers,  pendants, bangles they have it all.  You can literally shop for weddings, cocktails, sangeets and receptions from Attrangi. We love their polka and crystal and imitation diamond sets. The designs are versatile and in line with the latest bridal jewellery trends.
Our Favourites from Attrangi
India Trend
India Trend has been in business since 2006 and cater to south Asian clients all around the world.  Keeping up with the latest bridal trends,  India Trends houses a  large number of collections from bridal sets, chokers, mathappati, seeshpatti , bangles and much more. You will never run out of options at India Trend. Indian ethnic and contemporary styles, designed keeping in mind the new age women. A jewellery collection that delicately balances the classical with the contemporary, traditional, and yet cosmopolitan.
Our Favourites from India Trend
Zariin
Founded in the year 2010, Zariin is an Indian jewellery label with the tagline "Wear Jewelry every day". Though the tagline does speak of everyday jewellery and that is Zariin expertise, however, its festive and wedding wear collection is mind-blowing too. Each handcrafted piece is designed around semi-precious stones and 22kt gold-dipped brass. Zariin has been adorned by celebrities like Sonam Kapoor, Deepika Padukone, Priyanka Chopra, Nargis Fakri, Soha Ali Khan, Kalki Koechlin, and the stars of the hit TV series –All My Children and Gossip Girl. Brides all around the world are flaunting Zariin at their weddings. Kaleeres, necklaces, jhumkas, rings anything and everything jewellery is available at Zariin.  We bet the designs will make you drool over them and you are sure to pick not just one.
Our Favourites from  Zariin
Bling Bag
Bling Bag defines itself as a Bollywood Inspired  Jewellery Brand.  It has Indian Jewellery Collections like chokers, mangal sutra, bangles, and temple jewellery all in an affordable range.  The brand has imitation jewellery only. This online store is apt for brides who prefer minimalistic jewellery for their functions. Bling bag jewellery can be styles for engagement, Mehendi and other smaller events where minimal jewellery is preferred
Our Favourites from  Bling Bag
Unniyarcha
Unniyarcha, the jewellery brand is inspired and named after the legendary warrior of 17th century Malabar India. Known for her grace and valour, adorned in jewels and armed with a fierce spirit, Unniyarcha chose to wear an urumi (flexible sword) for a belt, around her waist. Unniyarcha is a  designer silver jewellery brand and the jewellery is designed keeping in mind the women of today. Every piece is beautiful and handcrafted, the mangalsutra collection is worth a fancy.
Our Favourites from Unniyarcha
Chaandi
Chaandi, the hindi term for silver is a brand that is known for exquisitely handcrafted silver jewellery. Silver is also considered a harbinger of good luck and prosperity and wearing something of silver on your special occasion will be special.  You need not to worry if they will match or not as the silver is gold polished and the designs are refreshing, unique and at par with the latest bridal trends. So if you think imitation jewellery is not what you looking for, but gold is heavy on the pocket why not try silver instead? Here is your cue to invest in gorgeous silver for the wedding.  Pure silver jewellery that is worth drooling over.
Our Favourites from Chaandi
Amrrutam
Amrrutam is an online multi-designer jewellery store that houses designs of more than 50 emerging designers across the country. The website also features jewellery designed by a few international designers too. Each piece is unique and handcrafted and specially designed keeping in mind the modern women. Wedding, Cocktail, Engagement, work wear, festive wear  Amrrutam has it all.
Our Favourites from Amrrutam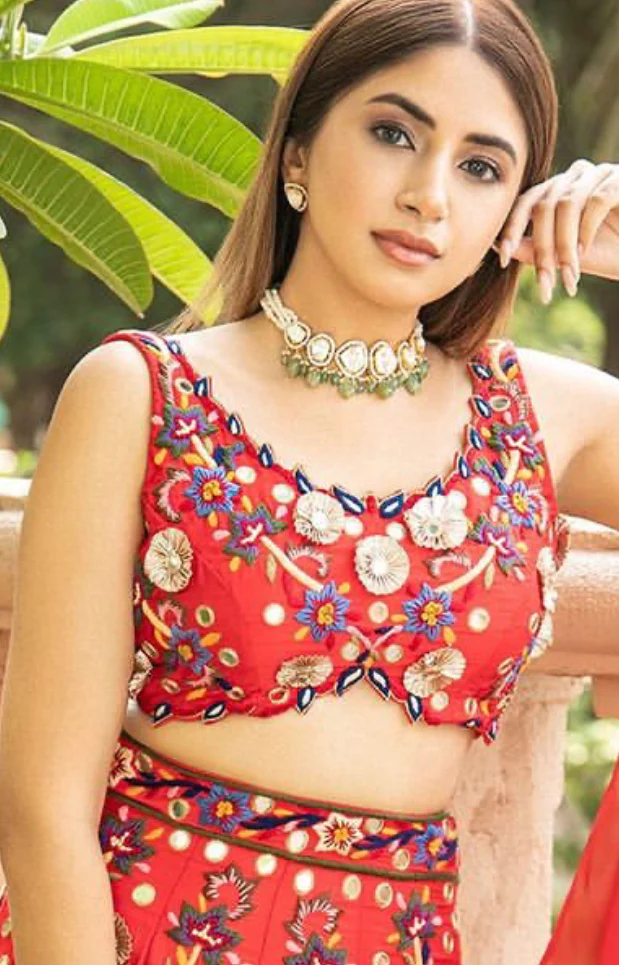 Hope you enjoy time your exploring these jewellery brands online and gathering a lot of inspiration and ideas for your wedding festivities. While you shop for your wedding jewellery online do read each website's return and exchange policy since all the websites have different delivery and return and exchange guidelines.