Brave is the women who give their hearts to the protectors of the nation. Srishti who works in a multinational company fell in love with an Indian Air Force Officer Dev. The two had a romantic Pre Wedding Shoot in Sikkim with super cool concepts. Yes! Not 1… Not 2… but the duo picked 9 different themes for their pre-wed shoot. 
Love Tale
"Our love story is very unique and interesting. We met when we both were not in the mood of any relationship and after our first meeting, we decided to get married. It was a big shocker for our parents too.
We were introduced by my sister as her husband and Dev were posted together in Darjeeling. So she acted as a matchmaker in our case.
Coming from a defence family (he is the 3rd generation of his family in defence). He was not very much into sho sha kind of a thing but I just completely wanted our wedding to be grand and memorable for both of us.
So we had decided to get our pre-wedding shoot done in Sikkim."- says Srishti.
"We chose Sikkim as it is very undiscovered and as Dev was posted there so it was easy for him to arrange all the things.
The day when our wedding date got finalized I started searching for the wedding photographer instantly and my search came to an end when I finalized Razz Photography from Amritsar.
We decided to take him to Sikkim along with us for our pre-wedding shoot. He was super excited too because there was no pre-wedding shoot happened ever before in those places.
It was only we three people who went for the shoot razz and we both. I have done all my makeup hairstyles and everything on my own.
We luckily managed to do 9 themes for our shoot in the span of 4 days."- says Srishti.
Mystic Blue
Uber Cool Boho Theme
Modern Vintage Theme
Indian Air Force Officer Love
Lake Pre Wedding Shoot
Go Traditional
Classy Road Trip Themed Pre Wedding Shoot
Red Love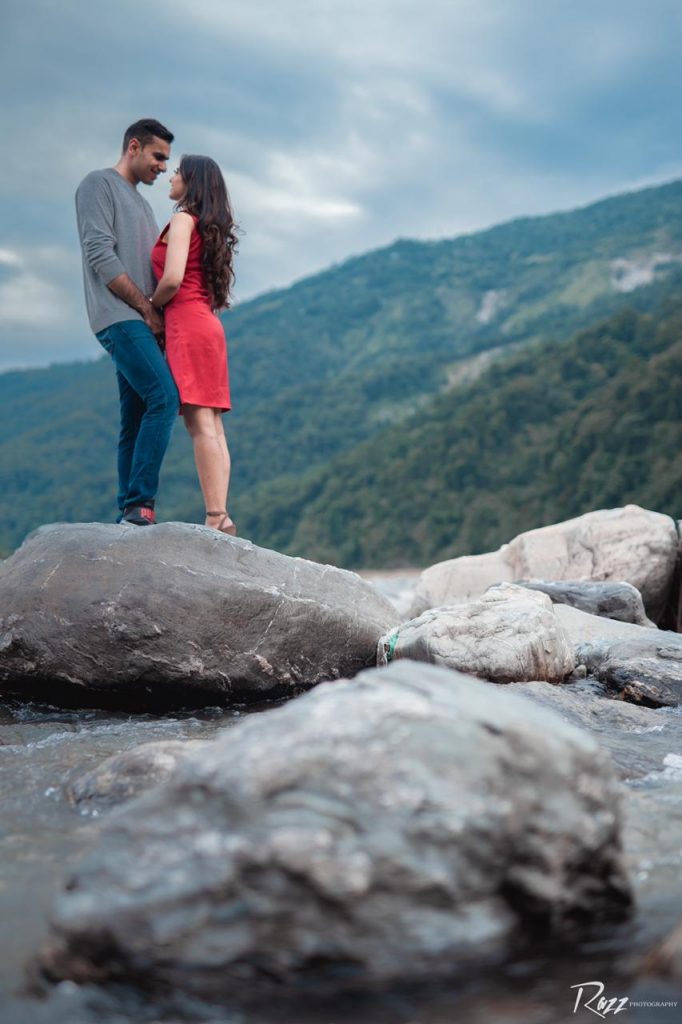 Super Fun Pool Table Themed Shoot
This is how Srishti & Dev amazed us with their classic Pre Wedding Shoot in Sikkim. You can too grab the ideas from their beautiful 9 themes for your pre-wedding shoot.