Felicitations on getting engaged! Lucky you, for having a winter wedding. After all, they are always enchanting and mesmerizing. Even though you must have already thought about how you want your wedding to be, there's still plenty to do. Adding to that, being a winter bride has its allure but taking care of our skin can get a little difficult with all that it goes through. From planning outfits to scouting the perfect destination, you've got a lot on your plate. So, today we are here to tone down your stress a little bit. You can get hold of the most experienced makeup artist or stylist, but for your skin to look juicy and luminescent for your wedding festivities, having clear skin is a must.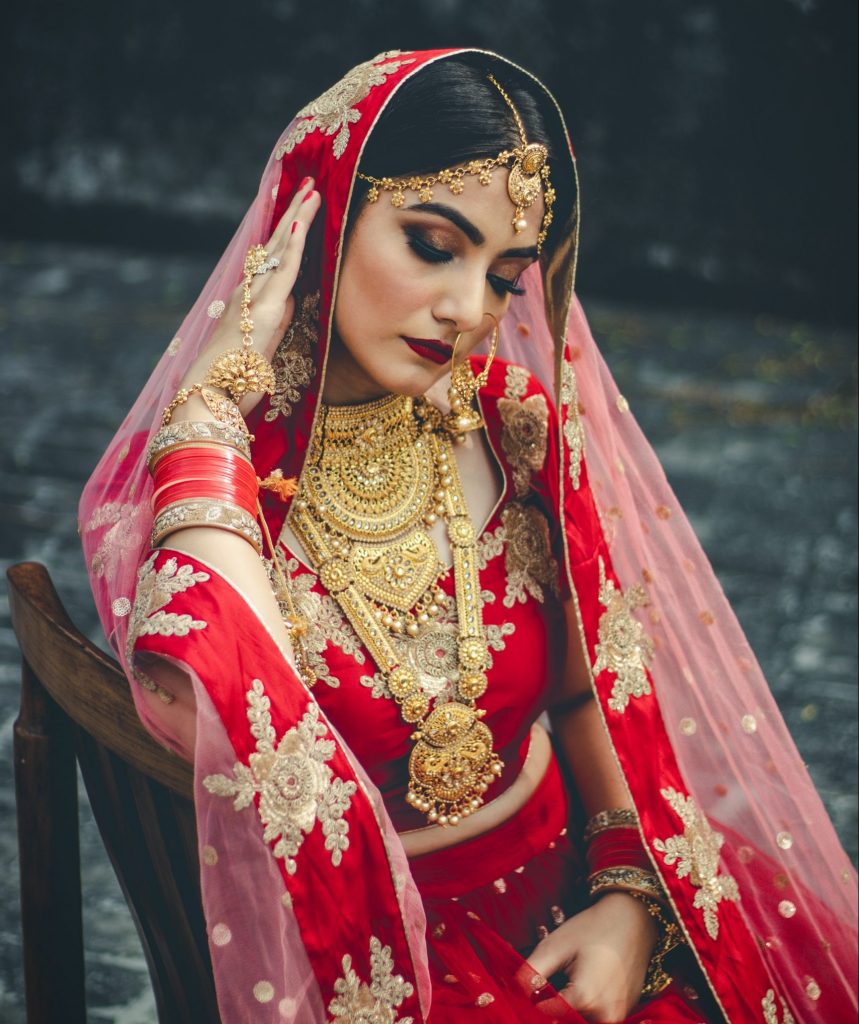 Here we have for you some beauty rituals along with affordable tried and tested product recommendations for a seamless bridal glow so that all eyes lie on you.
Body Oils
Dehydrated and parched skin is a big no-no for every bride. It is vital to incorporate a good body/facial oil in your daily skincare regime now. Pick a body oil that gets deeply absorbed into your skin. You can also mix a few drops of essential oils to fight any skin issue you have. For example, tea tree oil works great for sensitive skin. Trust us, regular body oiling will make your skin looking so healthy and radiant from withing that you'll glow like no one else!
Product Recommendation: MCaffeine's Coffee Body Polishing Oil. It is rich in antioxidants that make your skin even-toned, reduce cellulite and keep fine lines at bay. Also, the product is all-natural and chemical-free and easily available online.
  Facial Serums
Facial Serums are every winter bride's best friend. With the harsh cold weather, our skin tends to get dull and dry and makes our makeup look patchy. To combat this issue, get hold of a serum that suits your skin type the best. Serums are usually less thick but better than moisturizers and help to lock in moisture into the skin. They deliver a high concentration of active ingredients that are important for our skin. Constant moisturization ensures that your skin remains healthy and hydrated.
Product Recommendations:
Minimalist's Facial Serums. The products are based on pure science, clean formulations and natural ingredients. They have something for everyone- acne-prone skin, hyperpigmentation, skin surface exfoliators etc. Also, they are super affordable.
Mama Earth Skin Illuminate Face Serum:  This serum is very effective for acne spots and depigmentation, it contains vitamin C which is very good for your skin. It suits all skin type and if applied religiously it gives you clear glowy skin. It too is available online and you can also grab offers on the same during festive seasons.
    Steaming
Chilly weather calls for steaming! It is the prime way to improve blood circulation and cleanse your skin during winters. It opens up all your pores and hydrates the skin until deep within. It also makes the process of getting rid of all the debris, blackheads and whiteheads and makes it much easier to make your skin squeaky clean. This way, the makeup glides on smoothly and gives an even-toned look.
You can prepare a DIY steamer at home using a towel and some hot water in a utensil. Mix a few drops of essential oils in hot water or a few lemon slices to enhance the process. Not to forget, steaming can also help you get rid of all the stress of the wedding hassles. Get into the ritual of having a 5-minute steam session for your skin once a week.  Do cleanse your face before the steam for better results.
Product Recommendation: You can buy Ozomax's Facial Steamer which is easily available online and is very effortless to use.
  Facial Exfoliator
Do you want absolutely flawless skin on your D-Day? Exfoliation is the way to go. While there are a lot of facial exfoliators in the market, instead of adding more and more products in your vanity, consider adding something that you can use for years instead. Consider buying exfoliator tool. They work on battery and extract all the dirt from your pores. You can cleanse and massage your face with it that will also encourage blood flow onto your face and make it healthier. It stimulates the skin cells and makes it glow from within.
Recommendation: Bronson's Professional Mini Silicone Face Exfoliator. The product is easily available online and has a great price point. It has multiple vibration settings, is very gentle on the skin and also helps to reduce the pore size eventually.
   Sheet Masking
The cheat guide to flawless skin for every winter bride is a sheet mask. Sheet Masks are drenched with serum and natural ingredients that make your skin nourished and feed it with all good nutrients in just under 20 minutes. All of us are pretty much hooked onto sheet masks these days because of how relaxing they are and how expensive they make our skin feel. You can use a sheet mask right before your makeup if you have extremely dry and patchy skin to get that ultimate radiant look.
Recommendation- There is a wide range of brands available online that offer sheet masks with pretty much have the same price point and offers. Brands like Nykaa Skin  Naturals, The Face Shop, Garnier have some excellent choice of sheet masks you can try.
Skin Supplements
Skin supplements are an excellent choice for every busy and working bride-to-be. Our skin needs a little extra care during winters, and if you don't have enough time to deal with them, consult a dermatologist for some skin supplements that suit your skin so that taking care of your skin becomes easier.
If you have dull skin and skin issues like acne spots etc, vitamin C supplements would help. Similarly, for skin issues like hyperpigmentation, vitamin D supplements do a great job.
If popping the pill isn't your thing you can try  &Me Skin Plant-Based Collagen Drink With Multivitamin, aloe vera, Vitamin E, Vitamin C, Zinc it has amazing reviews and is very effective for dealing with pimples. It basically hydrates and cleanses your skin leaving you with a healthy glow  They come in small bottles and you can easily carry it along.   Check the reviews here 
   Taming facial hair
To get a seamless makeup look on your face, it's essential to have a clean canvas. It's even more crucial when you know an HD camera is going to click all the close-up shots on your wedding day. Make sure to get rid of all the peach fuss from your sideburns, forehead, upper lips and chin. This way the makeup glides on smoothly as well as looks better on camera. Removing facial hair also helps to get rid of all the dead skin cells from your face that usually don't come out by exfoliating. Facial hair can be natural but for some facial hair is also caused due to hormonal imbalances. If you see you have an unusual amount of hair you can go consult a gynaecologist to find out the root cause of the problem.
Recommendation: If you have excessive facial hair growth, we would recommend you to go for a laser facial removal so that you're set once and for all. You may require multiple sessions as well. If you don't have that budget or time to go for the appointments, you can invest in the Veet's Sensitive Touch Trimmer which is excellent for even the most sensitive kinds of skin and is very easy to use. After the hair removal, make sure to wash your face and apply aloe vera gel to soothe your skin.
If you are comfortable with the waxing you can also go ahead and use Veet Face Wax Strips specially formulated for the facial hair.
Another great thing that comes handy is the face razor, they are quick and easy to use and easily available online.
However, make sure to not go under any hair removal processes right before your wedding as sometimes they cause redness and bumps on your skin.
Get rid of the body hair
After taking care of your facial hair, your body hair requires equal attention. Go for a process you've used all your life, be it waxing or shaving and avoid switching to a new method. This is because your body is immune to it and will not cause any unnecessary reactions. Switching to a new method might or might not suit your skin type.
Another option for the ones who are looking for a better and more of a permanent solution are laser treatments again. They slow down your hair growth significantly. However, you need to start with it quite early on as they require quite a lot of sittings depending on your body hair type.
  Go for the right makeup look
In the frosty weather, it's needless to worry about your makeup getting budged and you can dance your heart out. However, there's so much you can experiment with when it comes to makeup looks.
Play with berry and autumnal shades in your look for that perfect winter bride look
Mix some liquid highlighter with your moisturizer to add luminosity to your look
Go for a sporty sultry eye makeup look
With the weather in your favour, let your locks flow
Natural Home-Remedies
If you love using natural ingredients to maintain your skin, there's so much out there for you already. To prepare your DIY moisturizer, mix Milk and Honey in a 2:1 ratio and apply it all over your body for silky smooth skin. This is also one of the most popular beauty secrets in The Middle East.
You can also stick by the Indian rituals of using ubtan for that ultimate bridal glow and clear skin.
Make sure to be extra careful about what you put on your skin right before your wedding and do a patch test on your skin to see if the ingredients suit your skin.
 Hydration
The most important ritual: Keep yourself hydrated at all times. Hydration not all gives you a good glow but also flushes out toxins from the body.  Keep a bottle of water with you at all times.  You can also drink coconut water once a day it is enriched with natural Vitamin C which will give a healthy glow to your skin and also reduces pigmentation. It's not only good for your skin but for your hair too. While you can also choose fruit juices to remain hydrated but choose fresh fruit juice over packed and canned juices as they are loaded with sugar and preservatives and aren't good for your skin and health. Make it a not just apart of your beauty rituals but also lifestyle habit for long term benefits.
So here  are your 11 essential  rituals for a healthy and  glowing skin.   Before you  try on some new skin product  on your skin make sure to  know your skin type and  use only products that match your skin type or the products that work well with all skin type.   Our skin type does change depending on the season and our lifestyle habits so  if you are not sure of your skin type here's a Quick Guide to Determine  Your Skin Type.
Goes without saying good skin comes with a healthy lifestyle and dietary  habits so  follow a healthy lifestyle and follow a daily skin care ritual.