Establishing its online presence in 2010, KALKI has emerged as a significant name today with influencers and celebrities joining the journey. Originating in Mumbai, the ethnic wear brand KALKI Fashion has seamlessly woven the dreams of fashion enthusiasts through its expansion of physical stores in Delhi, Mumbai & Ahmedabad, coupled with its video shopping platform. Embracing live streaming, KALKI connects shoppers closely with their desired products, aligning with the evolving dynamics of modern fashion in India.
Presently, KALKI curates an array of luxury ethnic and designer wear for both men and women encompassing everything from lehenga choli, gowns, and sherwanis, to Nehru jacket sets and salwar kameez. It has also forayed into accessories and kid's ethnic wear. When discussing KALKI's creative and traditional handcrafted pieces, it is important to acknowledge the dedication of over 400 to 500 skilled artisans behind them.
With its premium product range especially the bridal lehengas; KALKI's journey has always been upward. We introduce to you KALKI's Bride & Baraat Collection which can strike a chord with every bride-to-be.
The Art Of Designer Lehengas
There is so much emphasis placed on the bridal lehenga during the wedding preparations. It is more than just looking good, it reflects the bride's personal style, comfort, and the emotions tied to this once-in-a-lifetime shopping experience. It is a masterpiece that encapsulates so much more than what meets the eye.
In a nutshell, it's not just a bridal lehenga, but a bridal dream that has to be weaved, designed, curated, crafted, and parallelly dreamt as well. What's more? Wedding lehengas these days are also about Pinteresting and Instagramming the wedding. KALKI just aims at offering and doing its best to solve the bridal lehenga dreams, desires, emotions, and dilemma that comes along. KALKI provides valuable tips and trends to help brides-to-be find their dream wedding lehenga in a hassle-free manner.
Understanding The Significance Of The Bridal Lehenga
Every girl has a vision of a wedding lehenga that takes them back to their roots in terms of culture, tradition, heritage, honor, beauty, and opulence. Well, the style file keeps on changing, and unlike earlier when girls used to go with the flow, today conventional brides have a choice. Well, they wish to retain traditions and beliefs associated with an Indian lehenga and yet want it modern, iconic, and voguish.
On one hand, her latest bridal lehenga must look like a 'coming together of a childhood dream' and at the same time a salute to their edgy taste and confidence. With new design elements, color, fabric, and embellishments; they won't settle for anything less than an 'epic'. Be it a sangeet lehenga, mehendi or a cocktail Indo-western lehenga; it should shine in an extraordinary way.
Exploring The Latest Lehenga Trends
Brides-to-be can look out for an exuberant collection of lehengas that are no less than suspensions between dreams and reality. Now, maintaining that mood of a fat Indian wedding, visualizing the traditions that follow, abandoning the usual, and longing for comfort are the aspects that are cumbersome to handle. Hence, screening out the perfect one or the ideal bridal lehenga becomes a must. KALKI focuses on some current trends and factors that can be embraced.
Dupatta & Blouse- A lot of planning and fussing goes behind buying a wedding lehenga. But the popular color, cuts, styles, and designs of the blouse complete the story as well. The fabric of the dupatta and the mix and match of the color are important components to sculpt the whole bridal lehenga look. So, along with the design of the lehenga skirt, make sure you check the dupatta and blouse color, design, and cut too. Peplum, jackets, capes, attached dupattas, double dupattas, crop tops, and long blouses can give your wedding outfit a new design language.
3D Embellishments- When one color is warm and the other cool, the base is golden and the embellishments silver, and the skirt is sequined but the blouse is 3D; it creates a whole new flavor and essence. Brides-to-be can go for intricately embellished lehengas in 3d motifs. Minimalistic brides can create a balanced look by selecting blouses that contrast with lehengas. If the lehenga is bold and bright and loaded with embellishments, the neutral or pastel shade of the blouse can seal the deal. If it's a heavy golden work lehenga overall; you can go for a dupatta belonging to a different color family altogether- say neon, pastel, or multicolored.
The Fairy Vibes- A flare, frill, or ruffle on the dupatta, lehenga hem, or the edge of the blouse is just enough for that Cinderella effect. The flared blouse sleeves, the lehenga gown with frills on the edges, the trail on the lehenga gown, and the frilly elements on the dupatta are the showstoppers for the bride's lehenga choices. The light-weighted fabrics and soft tones are the extra touches to make your wedding appearance look straight out of a fairytale.
Considering Body Shape & Silhouette
Before opting for your dream wedding attire, you should also consider the type of body you have. Keeping in mind your body shape and structure; you can look for a specific color, embellishment arrangement, fabric, even or uneven hemline, layers, lehenga blouse design, and more. We suggest a few out-of-the-box lehenga designs to suit various body types.
Multi-layered or Paneled Lehenga- These lehengas boast frills, partitions, kalis, or layers at different heights or widths. They can feature a single fabric or a mix of fabrics creating a skirt that appears wonderfully flared and voluminous. Women with thin legs or petite frames can opt for these lehenga styles and designs. You can pair the multi-layered lehengas with crop tops, long tops, or peplum blouses to complete your fashionable ensemble.
Lehenga With Jackets- Embracing a refreshing approach, the lehenga with jacket style is rapidly gaining popularity. This trend eliminates the need for carrying a dupatta, a relief for those who find draping it cumbersome or over the top. Jackets adorned with zardosi embroidery, sequins, or cut-dana work radiate an exquisite charm, fusing the best of traditional and modern elements for the contemporary Indian bride. The lehenga design is just a great option for hourglass, apple, or inverted figure structures, offering both style and comfort.
Lehenga Gowns- Lehenga gowns present a contemporary twist on traditional elegance, combining the grace of a lehenga with the comfort of a gown. Especially suitable for pear-shaped body types, these gowns complement a smaller waist and well-toned hips. Styles like fish-cut or mermaid lehenga gowns accentuate the curves with their cinched waist and flaring silhouette below. Another trendy option is the trumpet skirt lehenga seamlessly blending indo-western aesthetics for a truly striking lehenga gown ensemble.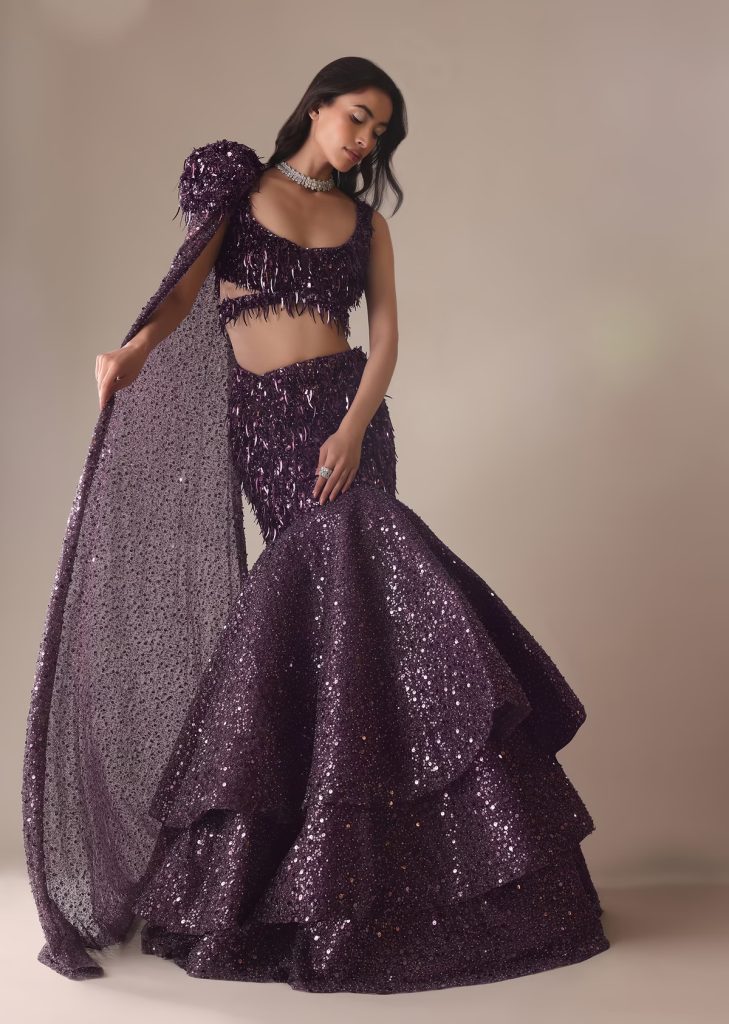 Tips For Stress-free Lehenga Fitting
There should be an ultimate lehenga-fitting checklist well in advance. Not to overstate but a bride is bestowing her dreams and faith upon it. Isn't it? So, if you are about to get a wedding lehenga fitting soon, here are a few tips that you should keep in mind.
Timing your Lehenga Fitting: When to get the perfect fit-
You can decide on your wedding lehenga maybe years in advance but when it comes to that perfect fitting; it is wise to schedule your fitting about a month or less before the big day. Changes in nutrition plans and exercise routines can influence the fit of your ethnic or designer lehenga, leading to unexpected adjustments. To ensure you step into your wedding day looking like royalty, steer clear of overly early fittings. Your fitting day should be as magical as when you wear it.
Skirt Length: Striking the perfect balance
It goes without saying, but getting the skirt length just right is essential. Aim for a length that is not too long or too short, striking that perfect balance. Also, consider whether your lehenga is a high-waisted, normal, or low-waisted couture. Remember, the alteration of the lehenga length also depends on your comfort and any personal adjustments you may need at the waist. Keep in mind that your chosen heel height matters too, a lehenga that is too long or short can affect the overall look if your wedding footwear is not of the expected height.
Over Customization-
While adding a touch of personalization with a latkan here and there or a brooch can add charm to your lehenga, overdoing it might lead to issues. Constantly taking your wedding lehenga for alterations can risk damaging the fine intricate sequins, cut-dana, or zari work before your big day. So, it is wise to plan ahead for any customizations you are considering whether it is a cape lehenga, pocket lehenga, tassel lehenga, lace lehenga, frill lehenga, or anything else. Setting clear parameters for your buying decisions will keep your wedding lehenga safe and beautifully ready for the special occasion.
As you embark on your wedding shopping journey, we would add that finding a perfect bridal lehenga is an event. Amidst all the excitement and nervousness, you want your bridal lehenga to fit you like a dream. So, apart from keeping the shared checklist in mind, we encourage you to go by your personal choice, body structure, and skin tone. One-size-fits-all is not the mantra when it comes to your choice of a lifetime. Make the journey positive, empowering, confident, and smooth with a huge assortment of designer and ethnic lehengas at KALKI. Banarasi lehengas, zari lehengas, gown lehengas, saree lehengas, fish-cut lehengas, cocktail lehengas, Indo-western lehengas and other ethnic
lehengas with a touch of fusion at kalkifashion.com will blow your mind with their design, fit, fashion elements, and cultural appeal.