Knotting Bells – a Luxury Wedding Photographer and Videographer Company recently shot a gorgeous intimate destination wedding, with bespoke minimalistic decor inspired by the mesmerizing wedding venue – Maldives. From organic haldi and punjabi dhols, to dreamy sunset engagement ceremonies, Disha and Abhay opted for a simple and classy wedding that was beautifully captured by Knotting Bells.
(About The Couple)
Disha & Abhay
Disha and Abhay met in school when they failed a test together, starting the journey of a memorable friendship throughout school life. They both went on to their own ways after school and only met together after a few years while living in different continents. Love grew stronger and after 11 long years of dating, Disha and Abhay decided to tie the knot.
Quote From The Couple
"There is no one moment that can describe this celebration. When you are with a person for so long, you always keep falling in love with them over and over again and in those little moments we knew this was a very special relationship.
We were always clear that we wanted a very small and intimate wedding unlike the regular Indian weddings. For the decor, we wanted to keep it very minimal as the beauty of this celebration was the mesmerizing location. We didn't want an extravagant wedding, just a simple, beautiful, classy and minimalist wedding. It took us one month to plan this and it turned out to be extremely beautiful especially with the perfect photography team.
We looked everywhere to select the best photographers. That was the first thing we wanted to finalise and the reason we chose Knotting Bells was for their sense of photography. We both are extremely camera shy people but Knotting Bells made us very comfortable. It felt like we were looking at Shrey, who was our friend and not at the camera. It was amazing to see how every photograph has been shot in such a natural manner. We were amazed to see the photographs come out so well."
Engagement
Haldi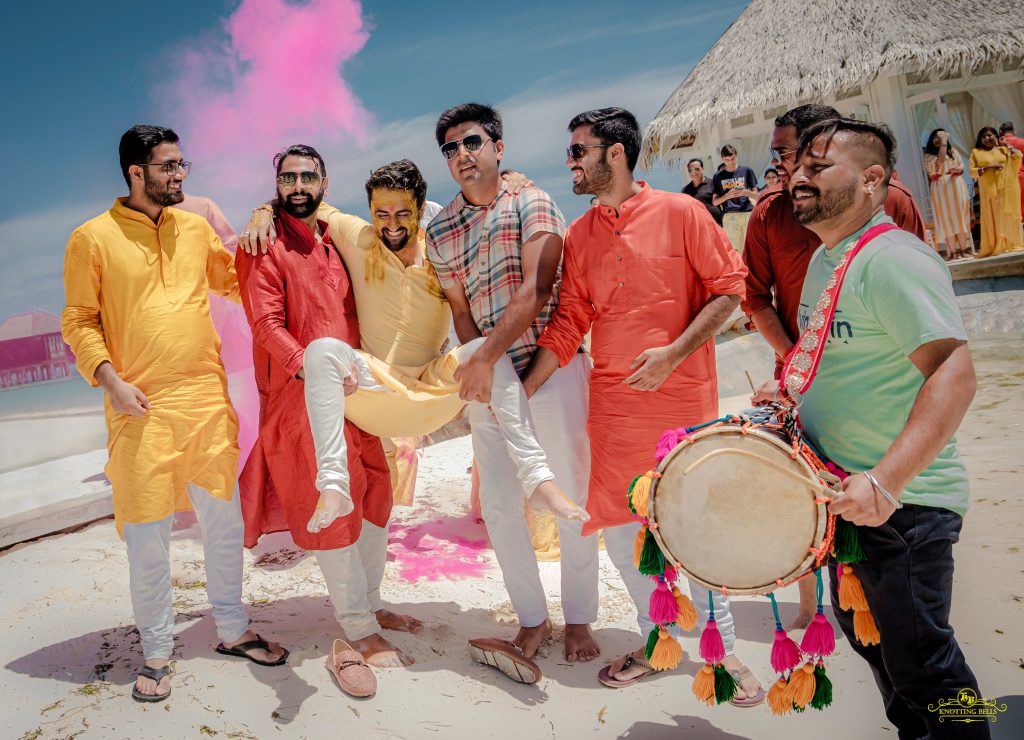 Wedding
Quote from Shrey, Co-Founder Knotting Bells
"Disha and Abhay approached us for this minimal wedding in Maldives and we instantly knew it was going to be a great experience. The planning started from March as the wedding was initially planned for May but it got postponed due to covid. However, the consecutive meetings helped us understand their story much better. With both of them being so open to new ideas, we were able to get our creative juices flowing and plan great ideas for the wedding.
The haldi ceremony was something we all enjoyed, as everyone was jumping in the water giving us some great photographs. It was a cakewalk to work with the couple with both of them smiling and glowing all the way through in the celebration. The best part was that there were only 50 guests and we could capture everyone in a beautiful way.
At the end of it all, we did not feel like we were just their photographers but also their bridesmaid and groomsmen. Disha and Abhay's wedding will always be a special one, with so much fun and the fact that we shot the entire event with just 4 team members."
Wedding Experts
Photography Team – Knotting Bells Photographers – Shrey & Rajesh
Cinematographers – Knotting Bells Cinematographers- Sachin & Rahul
Bride Disha Sharma: (Founder/Creative Director Zufolo Designs Pvt. Ltd)
Groom Abhay Katyal: (CEO, Welkin Vinyls & APR Synthetics)
Mehendi
Blouse – Raw Mango
Lehenga – Payal Khandelwal
Dupatta – Torani
Engagement
Lehenga – Torani
Saree – Vintage saree from my mother
Haldi 
Outfit – Personal Suit
Wedding
Bride Wedding Outfit- Tarun Tahiliani
Groom Wedding Outfit – Anamika Khanna's Sherwani
Reception
Outfit – Gaurav Gupta Gown