We've all heard of puppy love and spent most of the adolescent years crushing on someone and our thoughts preoccupied with the idea first love. But only a few of those school time romances turn into a lifelong commitment.
Today on the blog is Ankit &Akansha's love story that started off when they were in school and now they are happily married. We are a sucker for old school romance stories and they not only have a sweet love story but their wedding celebration is power-packed with ideas and inspiration.
How It Started
Ankit and Akansha first met at school and took some time before they became friends. Before the friendship could turn into love Akansha moved out of school to a boarding school. Though Akansha moved out of school and city they both kept in touch through emails and phone conversations and whenever Akansha returned home for vacations they both would catch up. Ankit first proposed Akansha on a phone call while Akansha was at the boarding school, but Akansha only accepted the proposal much later. They joined the same high school later and it was then the dating period kicked off. Years later the both decided to get the families involved and the marriage was fixed.
Wedding Fiesta
While the wedding festivities kickstarted in their hometown Ranchi with functions like Kirtan, mangal path, Friends' geet party, Byah Hath and Haldat the bigger functions were planned to be held at Jaipur. Akansha always fancied destination weddings and it was her dream to get married in Rajasthan and there was no second thought and Jaipur was the Dream Destination Wedding Location.
'Welcome to Rajasthan'
The day 1 of the epic wedding fiesta started with Welcome Dinner with the theme as " Welcome to Rajasthan" The true feel and vibe of Rajasthan was on the display for the guests with traditional Rajasthani decor khaats, muddhas etc at the of Le Meridien, Jaipur. Ankit and Akansha made a grand entry to the venue with the Dhols beating alongside.
Let's take you to Tomorrowland
The next day function of the wing fiesta was the Cocktail, themed as Let's take you to Tomorrowland.
The banquet was converted to a club with the led walls lightings and bubble machines for the couple entry. The entertainment arrangements were top-notch where there were Russian Dancers to entertain the guests. It was one helluva party for the guests as they danced their hearts out.
English Carnival
On Day 3 the wedding party was all set for poolside Mayra & Mehendi Function. The theme for the day was English Carnival and aptly so as the setup was pastels and florals with butterflies hangings specially curated for bride's seating area. The guests had been perked up with activities such as giant Jenga, snakes & ladders, spa stations, 7 up 7 down, caricature artist and magicians. While the entertainment was quite the fun hunger pangs were also satisfied by unlimited candy floss, popcorns cone pizza counters, candy bar and tequila shots. carnival of dreams. The highlight was the groom entry with the colour bombs and dhols while the bride made an entry with her brothers under the floral umbrella, wearing coordinated outfits.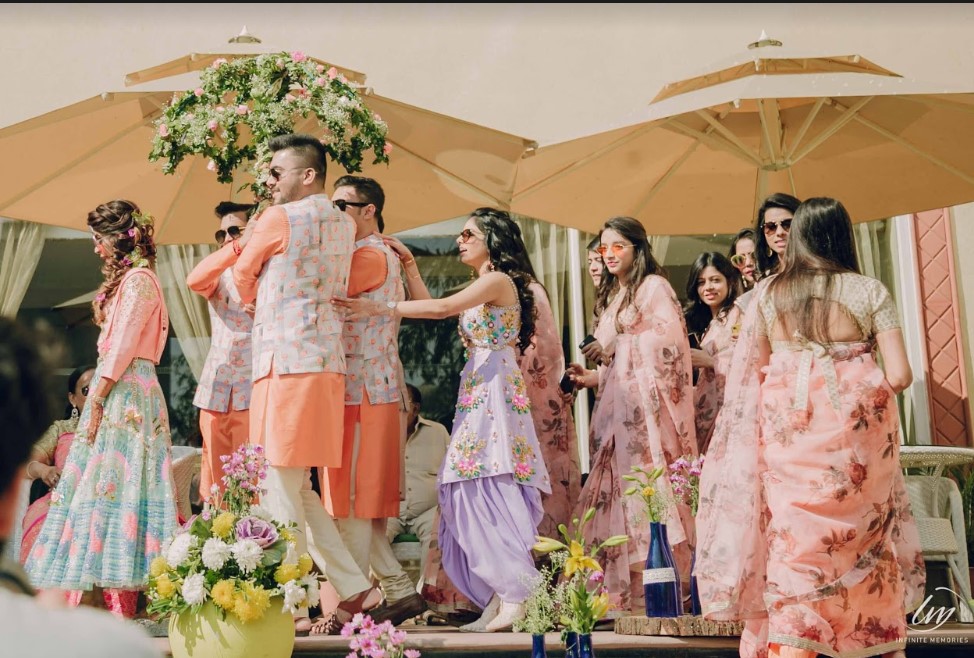 Jashn-e-Shaam
The evening was power-packed Sangeet expediently themed as Jashn-e-Shaam. The Sangeet was a glitzy and a melodious affair with the performances by Nupur Pant and Saurav Kalsi. Friends and family joined in and gave stellar performances making it a night to remember.
Fusion Haldi
New day, new celebration and it's time for Haldi fun. The bride and the groom made a ricking entry on the rickshaw and with flower shower. The Haldi decor matched the theme of yellow and white adorned with marigolds and colourful tassels.
Royal Wedding
The much-awaited day had finally arrived and the preparations were as grand as it could at The Gulmohar, Jaipur. The entire venue was done in red and white and beautifully lit with the candles. The Baraat possession was like a royal affair the groom Ankit entered in a horse carriage with the famous Jea Brand from Jaipur and the grand lawazma gave a royal touch. Bride Akansha entered in a royal chariot looking like a princess in Sabyasachi ensemble escorted by beautiful shaman girls. The varmala exchange set the sky ablaze with many cold pyros and spectacular fireworks.
Inspiration behind different looks
Akansha says her inspiration has been the brides from real weddings that she had been reading about on different wedding planning platforms. She wanted to create different looks for all her wedding functions and she says she loves her Mehendi Look the most. Akansha says she has put a lot of time & effort in planning and executing the looks and had travelled across Mumbai and Delhi for her outfits.
Shoot With the Bridesmaids
A bridesmaid's superpowers include loyalty, humour, and punctuality and to keep the bride happy and stress-free is every bridesmaid duty.
Picture Worth a Thousand Words
A Forever Bond
A special day to remember with good times to last,
With memories which be remembered long after it's past.
The kind that brings love and joy with each wish
True love and happiness are not as hard to find as it seems, each love story has its own share of ups and downs and it only makes it stronger.  This beautiful couple and their drool-worthy wedding celebration are dreams come true.
We wish Ankit and Akansha lifetime of marital bliss and happiness.
You can also see much more from their wedding  On Instagram   @bunkitwithshankit.
Vendors
Makeup Artist: Shahid Naar
Hairstylist Arif Salmani
Photographer & Videographer: Infinite Memories
Wedding Outfit: Sabyasachi Mukherjee
Wedding Décor & Planner Elite India events
Mehendi Artist: Lata Mehendi, Jaipur
Mehendi Outfit: Papa Don't preach by Shubika
Mayera Outfit: Maayera Jaipur
Cocktail Outfit: Suneet Varma
Sangeet Outfit: Gaurav Gupta
Jewellery Floral Jewellery: Kanyadhan by Dhiraj Ayushi
Bridal jewellery: House of Rambhajos, Jaipur
Footwear :  Veruschka , Mumbai