Wedding outfits demand a lot of precision– especially when it comes to the 'bridal lehenga'; everything, from its colour to the work on it, from matching jewellery to the dupatta draping, needs to be meticulously planned. While trying innumerable outfits and drooling over lehengas by ace designers is a vital part of bridal shopping, the bride has to eventually choose one perfect outfit for her wedding. And what elevates a bridal look is the way the dupatta is draped. Believe it or not, your dupatta draping style can make or break your entire look.  
An integral part of the bridal avatar- the veil, or the bridal dupatta, is one of the oldest traditions in our country that is still followed by all brides. However, what has evolved with time is its draping style. We have curated a list of 8 fascinating ways of draping bridal dupattas in 2022 that will make you look stunning and chic all at once. Let's get started! 
1.

 

The Typical 'Sabyasachi' Drape Style
Image Source: Katrina Kaif
Classic, clean and crisp, this style can make you look like a regal queen. Remember Katrina Kaif from her D-Day? This Sabyasachi bride donned her classic red lehenga and looked ravishing in the double-dupatta drape style introduced by the eminent Indian couturier, Sabyasachi Mukherjee. In this style, one dupatta is draped diagonally and tucked to the waist. As for the other dupatta, one end is pinned to the head and the other end is tied to the wrist.
Rock your bridal look with this draping style, as this one is tried, tested, and approved by our very own Bollywood queen! Moreover, double-dupattas can be styled in multiple other ways as well. In fact, one can also experiment with different pairs of colours and fabrics of the dupatta. It's very popular for brides to use velvet or silk dupatta for draping and a sheer dupatta for covering the head. Besides, a monochromatic lehenga can be illuminated by adding a contrasting colour dupatta. 
2.

The Traditional-Yet-Elegant Single-Dupatta Draping Style

 
Of course, while double dupattas are the next big thing in bridal vogue, this traditional way of draping a single dupatta can also work its magic. Quite popular among Sikh and Pakistani brides, look ethereal in your bridal lehenga with the dupatta draped in this way: set the dupatta on your head in a way that both ends of the dupatta are in the front, then simply toss one end of the same on the other shoulder making a cowl-shape in the front like this gorgeous bride in pink has done right here.  
3.

The Drape-It-Like-A-Cape Style

Well, if you're a sassy bride-to-be who wants to ditch the cliché traditional draping style where the dupatta is pinned on the head – try draping the dupatta like a cape and carrying it on the shoulders. It gives the illusion of wearing a jacket and looks very classy, chic, and bold. This will let you flaunt not only your curves but also your beautiful hairdo, which otherwise remains mostly hidden beneath the veil. This draping style is easy-peasy to carry and also offers a dazzling look from the back. Remember, the lens will be on you, capturing you from every angle – so you want to choose a look that makes you look utterly elegant and glamorous.  
4.

The Kamar Bandh Drape Style

 
This one's for all the fashion divas, as with this style, you can never go wrong! A perfect blend of contemporary and conventional times; in this style, you set your pleated dupatta on one side of your shoulder or across it and secure it around your waist with a belt or a Kamar Bandh (a waistband). This will not only accentuate that beautiful waistline of yours but also elevate your fashion quotient. If you want your look to be more traditional with a dash of royalty, then you can opt for another dupatta and set it over your head. 
5.

The Gorgeous Gujarati Drape Style
Imagine doing a twirling pose in this traditional Gujarati dupatta draping style. This way of draping a dupatta is a rendition of the rich heritage of Gujarati culture and is popular across India. Here, one side of the dupatta is neatly pleated at the front and falls below the waist and the remaining stays on the backside falling freely. For a more glamorous look, it can be paired with another dupatta, which could be of a different shade or fabric, and pinned low on the head. With this look, you should definitely ensure to be captured in some swoon-worthy twirling shots! 
6.

The Regal G

hoongat

Style

 
The unique and regal bridal dupatta draping style of our Bollywood heartthrob Priyanka Chopra is in buzz even today, years after she tied the knot. Simple yet elegant, this drape style look promises to amp up your bridal look and make you look like a Maharani. Simply drape a net veil in a way that it covers your face, and voilà, you are ready to steal the show! Moreover, you can even make it look straight out of a dream by adding a gorgeously long trail to your dupatta as the actress did. 
7.

 

The Classic U-shaped Back Drape Style

 
If you want to look sophisticated and flaunt your exquisite blouse or choli, then this dupatta-draping style is a game changer for you. For this style, you'll have to tuck one end of the dupatta in the lehenga while the other end can be either tied to the wrist or the shoulders, making a flowy 'U' at the back. Also, a great option to carry out this look is by using a heavily embroidered dupatta, as with this draping style, you can ensure that the fine delicate work on your ensemble is properly on display. 
8.

 

The Slay-In-A-Saree-Style Drape

 
Are you someone who is intimidated by carrying everything at once – the lehenga, the jewellery, as well as the dupatta? If your answer is affirmative, then this draping style is for you! Just pleat your dupatta crisply, pin it to your lehenga behind your waist on one side and drape it like a saree's pallu by tossing it over your shoulder. Because it's super easy to carry, you can thoroughly enjoy the ceremony from start to end without being bothered. So go, let your hair down and dance your heart out in this simple yet elegant drape style. 
9. 

The Minimalistic Dupatta-On-Head Style

 
Here is another trending draping style that can satisfy your big fat Indian wedding dreams! Look enchanting in your bridal lehenga with your dupatta simply pinned on your head. A unique and elegant way to carry out this look is by letting one end stay at the back, and the other falling beautifully over your arms and torso, giving a contemporary yet classic look. An ideal draping style for the fashionistas who want to show off their stylish blouse and beautiful curves! This, accentuated with dainty jewellery, will make you steal the limelight on your D-day.
10. The casual-but-classy one-side drape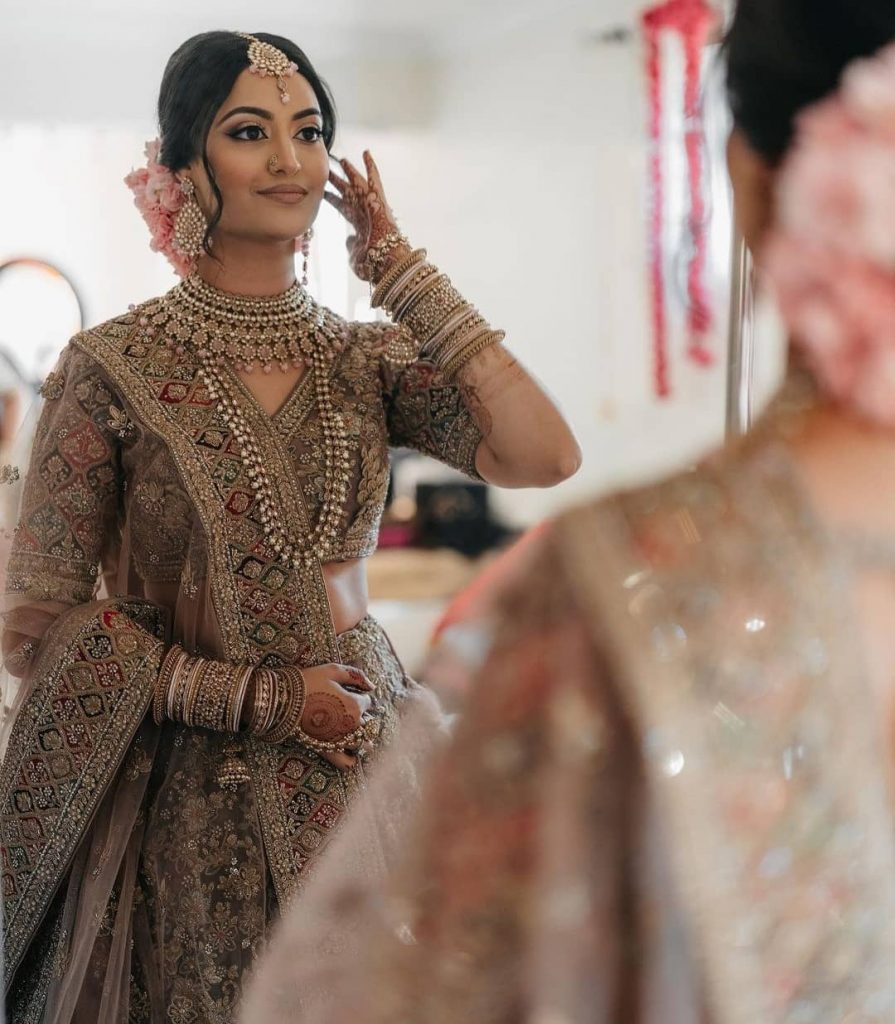 If you're someone who believes in the mantra 'Go basic or go home,' then this one-side dupatta draping style is for you! A very simple and basic style to set that heavily embroidered dupatta – just pin it on one shoulder and forget about it (no, not literally!) – and carry it in such a way that it rests on your elbow to showcase the intricate embroidery work on your dupatta. Look like the happiest bride in this easy-to-handle drape!
The wedding season has kicked in and it goes without saying that a nicely draped dupatta can totally revamp your bridal avatar and add some extra oomph to the entire ensemble. If you have already finalized your wedding getup or are in the process of doing the same, then make sure you figure out the best dupatta draping style that works for you well in advance, in order to avoid trouble on D-Day. Embrace the style that you think will suit you the best and look sensational as you create the wedding memorabilia that you and your near and dear ones will cherish forever.