Intro
Santorini Greece is like a dream paradise, and a pre-wedding shoot in Santorini is like a dream come. true. When our inbox buzzed with pictures from this  Romantic  Pre Wedding Shoot in Greece & Destination Wedding in Corbett,  we were awestruck. This wedding is definitely unmissable and is filled with tons and tons of ideas and lots of love.
Meet Preeti & Tijil 
Preeti & Tijil are Doctors by profession, while Dr Preeti was a dentist in India, Dr Tijil was a Neurologist in America.  Yes, it's a long-distance love story like almost Saat Samundar Par.
Preeti says "He makes my brain work and I make him smile" 
Though having personalities that are poles apart, their magnetic pull is too strong and they balance out each other very well.  Their first conversation was a phone conversation which lasted for over 7 hours since then countless sleepless nights had been spent taking over the phone from both sides of the continents.
A few months later  Tijil few down to India for a 3-day trip to spend time with Preeti. The two made the most of their little time together in India and this trip brought them closer. Tijil again surprised Preeti on New Year as he flew to India to celebrate  New Year with her. Thus the two kept talking and their fondness for each other soon turned into love.
Preeti says " Our conversations kept getting longer, and it pretty much got to a point that we were either working or talking. I distinctly remember the day he uttered the three magic words. I couldn't stop blushing the entire night (obviously, I did not sleep)."
It is often said don't decide to marry a guy unless you have travelled with him. Maybe I took the quote too seriously & we travelled together to Miami, Puerto Rico, Greece, Texas, Lake Tahoe, New York among other places during the next two years.
Our trip to Texas was a turning point. We went on an exploratory nature trip, and among many things, we went camping on a beautiful secluded beach, hiking, floating on a river, and grilling by the lake. Given my nature, he also took me dancing and showed me how to two-step. We experienced living with each other under normal circumstances for the first time, and it actually made us fall in love with each other even more. We finally tied the knot on 30th Nov 2019. Now we are happily married and settled in the US. Who says Long Distance doesn't work!
Pre Wedding Shoot in Santorini Greece
It was Tijil who fixed up a pre-wedding photoshoot in Santorini, Greece which is a favourite destination for honeymoon couples.  The theme was white and blue considering the classic Oia background.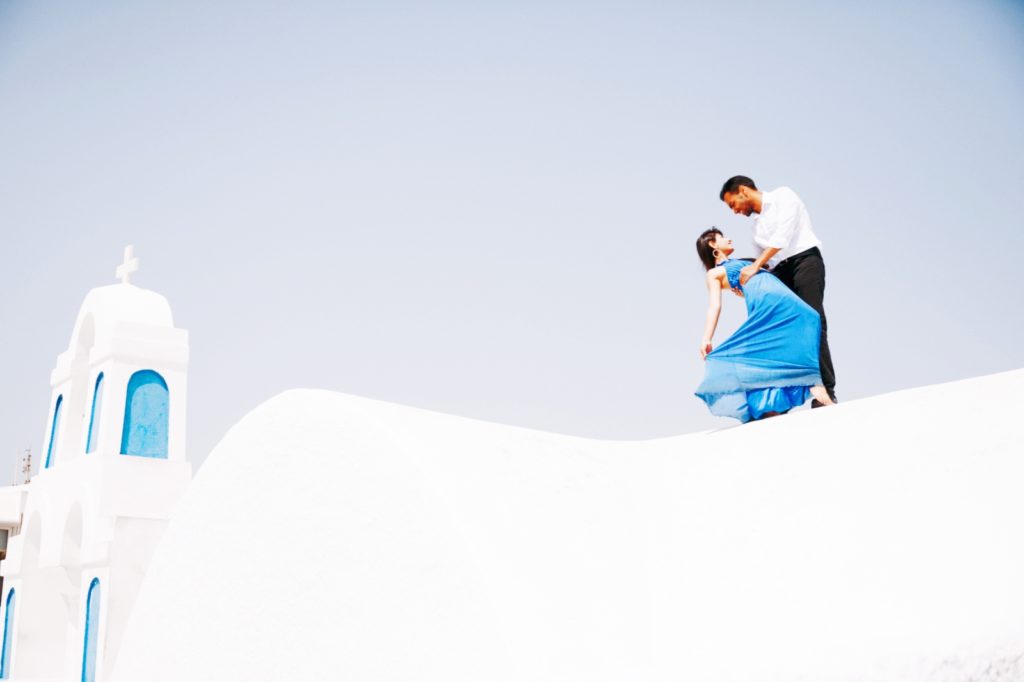 Outfits: Tijori designer studio ; Armaani