"Gujarati bride & Punjabi groom" tagline, is enough to let you know that the wedding story is about to unfold. Their love story is no less than Karan Johar's Bollywood movie drama. In spite of belonging from different cultures to long-distance relationships & after facing many ups & downs, Suruchi & Manan passed every phase with their love, trust & faith. Their love story is truly inspiring for everyone with a reminder that you should never give up on your love.
Meet Suruchi & Manan
How they met:
"I had just come down to the hometown after a year in Mumbai. A friend of mine tagged me along to a short-film screening and it was really interesting. So I got into the core committee, where I met Manan for the first time. I still cannot recall him on the team but there is photo proof! He got really interested and asked my friend about me. She planned a movie outing where we met again. We followed each other on Twitter and shortly became friends. He had also moved to my area, so we exchanged phone numbers and started meeting often."
"Six months later, he already told me that he liked me. I laughed it off as infatuation, but he was persistent and pursued me with a conviction for years. I took 3 years to say yes. And that was the time when he was moving to Australia for further studies. So, the long-distance relationship started!"
"Different time zones, the pressure of work and studies, frustration of other's absence and the test of loyalty asked for much effort from both sides. While he was struggling to thrive and make a living, she was being made to meet other marriage prospects. After completing his MBA and securing a job, Manan finally decided it was time to ask for Suruchi's hand in marriage from her parents. The parents' obvious concerns were Punjabi & Gujarati cultural differences, age difference, and astrological differences. They were right with their concerns and wished the best for their children too."
"Manan's April 2017 trip to India proved to be futile as the parents mutually decided they should not encourage this relationship to go any further. A lot of drama, discussions, tears and convincing and heartbreak ensued. Eloping was never an option because both wanted their families' love, acceptance, and involvement in the starting of a new relationship. Hence, Manan & Suruchi decided to end the relationship but it was a struggle for both of them.
And here comes the twist:
However, Manan never lost hope and optimistically decided to give one last try and again took a trip to India in November 2017, just to convince Suruchi's parents. Met them and lovingly listened to their concerns while simultaneously putting forth his reasons to be with her.
His efforts bore fruits, their prayers were answered and both families finally agreed to their marriage. The scene was of Chatt Mangni & Patt Vyaah, so much that their engagement was two days after the families met and the wedding on the same date, after one year. Both are now happily settled in Sydney, Australia, she crooning to Punjabi songs and him cracking Gujarati jokes with in-laws!"- says Suruchi.
Wedding Festivities
"The ceremonies were Mehndi, Mandap Muhurat & Haldi, Sangeet, Wedding & Reception. I dressed up in a teal and baby pink chaniya choli in mehndi, which was at home. Mandap Muhurat and haldi were in a hotel in the morning with minimal décor. I changed sarees during the ceremony; for mandap muhurat, I wore a Gujarati style saree and for haldi, I changed into a white saree with golden border and a green blouse. I like south Indian culture so I wanted to include that in some way into the festivities.
Sangeet was an evening program on a hotel lawn. Because it was a dancing night, Manan wore a black pathani with a jacket while I wore a pink Bageecha Banaras lehenga. The blouse had a belt for the dupatta. The wedding was an amalgamation of two cultures – Punjabi & Gujarati – so it was a night wedding in a beautiful banquet hall. I was dressed in "paanetar" and "gharchola" – two sarees worn together which is the traditional way. The Punjabi aspect was the chooda and kaleera. The reception was again in another banquet hall and I had worn a saree –jacket."- says the bride.
Mehendi
"My Mehendi design had a Sydney skyline – with Sydney Tower Eye building, Opera House, Sydney Harbour Bridge, and the high rise buildings and an airplane over it. There were Kalash, dhol and a husband and wife caricature in the mehndi. I had also put mehndi on the sole of the feet."- says the bride.
Sangeet
Wedding
My absolute favorite is my wedding look, with traditional red, white and green colors. There are two sarees – "gharchola" one given by the in-laws and "paanetar" one by the family. Earlier, both of them were worn as a symbol that in the auspicious occasion, I'm now adorning the gift given to me and the whole transformation aspect. I really wanted to honor the tradition, and hence, I wore two sarees for almost 8 hours that night.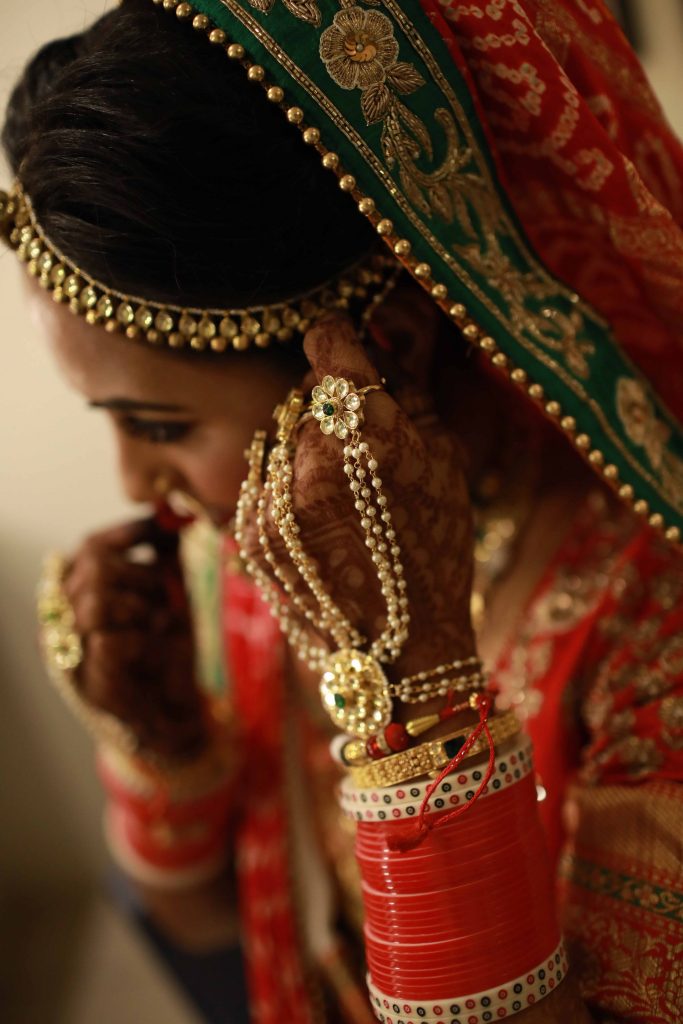 Here Comes Our Gujarati Bride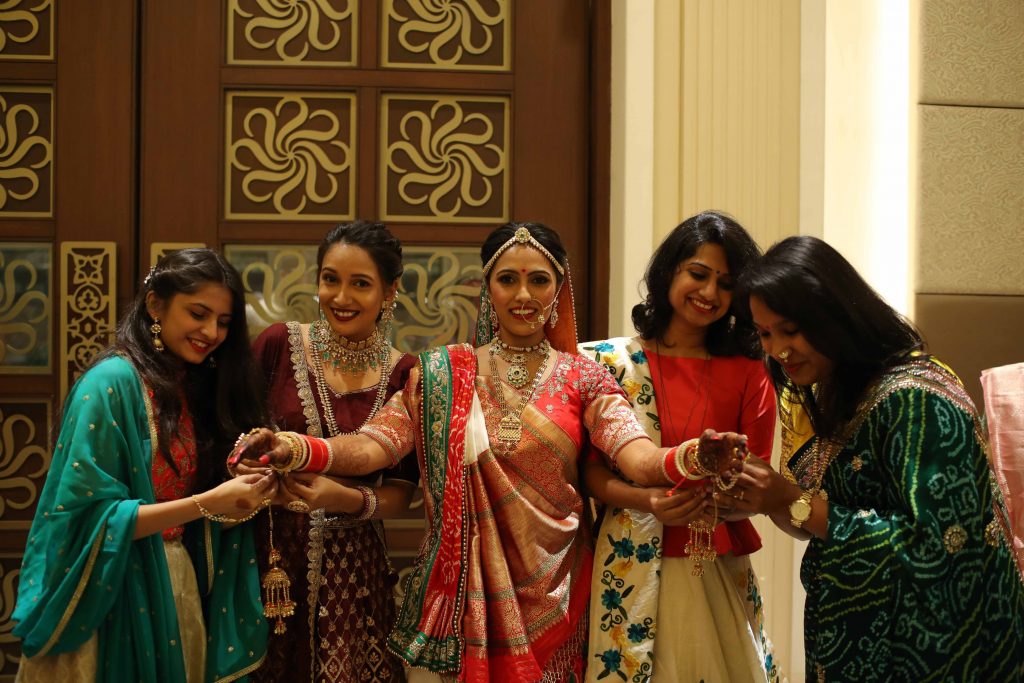 Reception
The Fun Part Of Wedding Day
Gujarati weddings are generally a day event or an evening event. With a full night Punjabi wedding happening for the first time, it was a running joke in the family to practice for a year to be up at night to attend my wedding properly. The most fun part was the sangeet where I danced for 3 hours and everybody participated and danced till the end!
Advice For The Brides-To-Be
Always go for whom you trust the most, may it be the designer, photographer or makeup artist or the jeweler. That really helps kill half the anxiety and you are assured that you will look good in every aspect and the photos and videos will come out good too! Besides, make it a point to have fun at your own wedding!
Wedding Makers
Venue: Shakti Green banquets & lawns, Hotel Sayaji, Hotel Grand Mercure
All the venues had beautiful décor so there was less need for other décor items.
Makeup Artist: Omorfos Salon Vadodara.
Bindiya Khurana and the team is amazing and I fully rely on her for the looks suggested.
Photographer & Videographer: Palette Media from Kerala.
Their outlook and approach were fresh as compared to local photographers.
Wedding Outfit: Designer made
Wedding Décor: Shakti Green Banquet team
Groom Outfits: Chandresh Nathani
Mehendi Artist: Bhumika Patel
Sangeet Outfit: Bageecha Banaras
Reception Outfit: Chandresh Nathani
Footwear: Veruschka Shoes by Payal Kothari