Umang and Nidhi, the journey of their love story is one to remember. Weddings, as we knew them, have come a long way. As is the case with everything, from fashion to fitness trends, wedding trends too have evolved considerably. And at the helm of these trends is one such modern love story of Umang and Nidhi that culminated in the #TheUMANIWedding, giving it an aucourant update. Think of a celebration that involved 9 days of merry-making to celebrate their love. They added their own personality to characterize the wedding by assigning a fun theme to every celebration! Swipe down to know more about The Umani Wedding.
Meet Bride & Groom
How they met:
Love brewed at a time and place they least expected it to. The pair first met during a trip to Canada as their parents who were friends for a long time, insisted the two meet and get to know each other. They started at being friends and it wasn't long before they realized they were actually meant to be together for the rest of their lives. At a point where Umang had to leave for London to further his career, they realized they did not want to stay away anymore. The happy couple had been in a long-distance relationship for a while and somewhere in between love blossomed. The head over heels kind of love. A very unconventional love! These two best friends-cum-soulmates are not big on mushy romantic gestures but would rather seek thrills and adventures together for a lifetime to come.
The Umani Wedding Celebration
Umang & Nidhi's engagement cemented this commitment and wedding bells were in order. The pre-wedding shoot was definitely one for bookmarking. For the conceptualization, designing, and management, the couple unanimously picked Swaaha Weddings & Experiences. They transformed their dream wedding to become even better than the couple had envisioned it.
Pre Wedding Shoot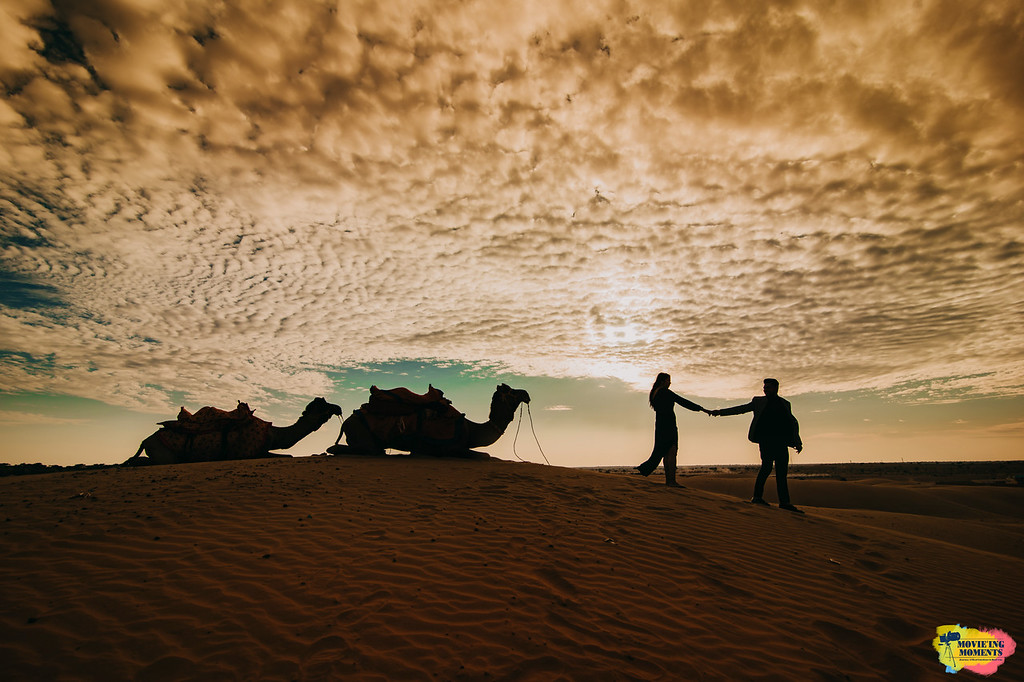 Bohemian Henna 
The duo wanted to begin on an auspicious note with a Siddhachakra Pujan to seek divine blessings on January 21. On January 25, they kicked off their celebrations with Bohemian Henna where everyone stepped forward at their vibrant and festive best.
Sangeet Sandhya
On January 26 was the Sangeet Sandhya cum Wedding Party, which saw lots and lots of dancing. From well-synchronized dance performances by bride & groom friends and family to solo acts by Umang and Nidhi, the evening had all the ingredients of a Bollywood-worthy sangeet celebration. The highlight of the night was glitzy and glam and it was as glamorous as it could get.
Shimmer Night
There was also the Shimmer Night because what the wedding is complete without a cocktail party. The night saw lots of shimmers and a whole lot of shimmy.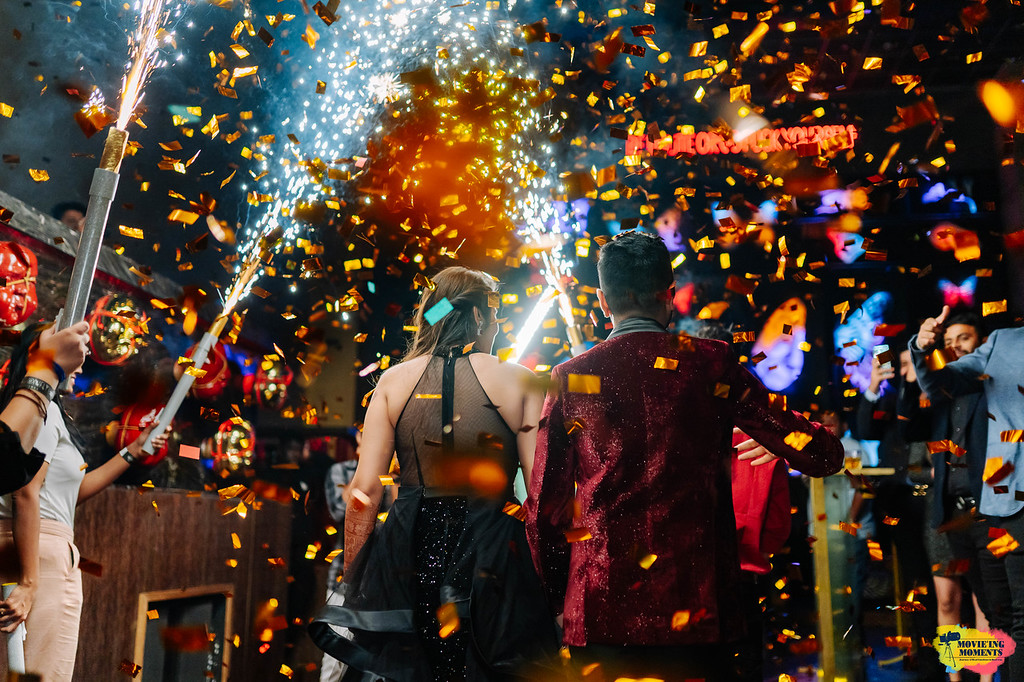 Lagan lakhwanu & Mameru
The Lagan Lakhvanu and Mameru where the wedding invitation is drafted and crafted, took place on January 27 followed by the Haldi shenanigans on January 28.
Boys Mameru Mehendi
Haldi
The 'Bright In Yellow or White' theme was a hit with lots of sunshiny yellows and classic whites. The couple said their final "I do's" on January 29, followed by a lavish Wedding Reception in Mumbai. It was a beautifully curated wedding packed full of Instagrammable moments.
The Umani Wedding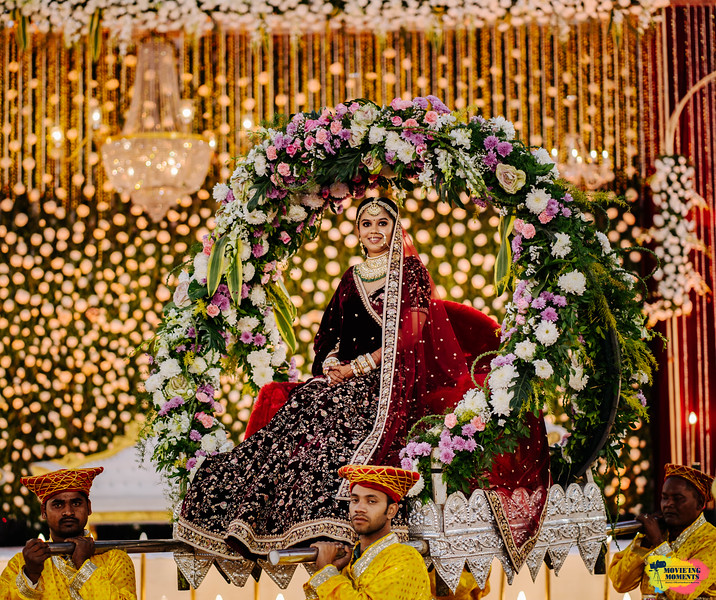 Grand Reception Night
Gorgeous Bride Outfit Details
The bride picked a poppy looking number from Papa Don't Preach by Shubhika for Bohemian Henna, while for the sangeet she went with a rare, statement-making piece by Rare Heritage. Her outfit looked gorgeous in a Mrinalini Rao for the Lagan Lakhvanu & Mameru and took glam and shimmer to a whole new level in an Eye Candy ensemble for the Shimmer night. Nidhi's haldi outfit by Label D showed unparalleled craftsmanship, while for the wedding day she opted for a quintessential Sabyasachi lehenga. Exceptionally stunning was the Gaurav Gupta number the bride chose for the Wedding Reception.
Wedding Vendors
Photographer & Videographer: Movie'ing Moments
Wedding Planner: Swaaha Weddings (decor by them)

 Poojan 
Bride outfit – Gangore bridal studio 
Venue – Chintamani Derasar 
Bohemian Henna 
Bride outfit – Papa don't preach by shubhika Jain 
Makeup – Pakkhi pahuja 
Venue – JW Sahar 
Sangeet Sandhya 
Bride outfit – Rare heritage 
Makeup – Pakkhi pahuja 
Venue – St.Regis 
Lagan lakhwanu & Mamera 
Bride outfit – Mrunalini Rao 
Makeup – Pakkhi pahuja 
Venue – Sahara star 
Shimmer night 
Bride outfit – Eye candy by pinky & sheshank 
Makeup – Swapnil 
Venue – Dragonfly 
Haldi Shenanigans
Bride outfit – Label D
Venue – Ramada palm groove 
Wedding 
Bride outfit – Sabyasachi 
Makeup – Shraddha Luthra 
Venue – JVPD Juhu 
Reception 
Bride outfit – Gaurav Gupta 
Makeup – Shraddha Luthra
Venue – JVPD Juhu