There are 100's of colours in the colour palette, and it's just so hard to pick one. As a bride-to-be, the choice gets equally tougher. Above all,scrolling through your Instagram feed and bookmarking Lehenga Inspirations is a  never-ending process for those who are soon to be married. The wedding designers bringing on new collections every season, trends to follow and putting together an entire look sure is a mammoth task. 2021 brides are more and more inclined to pick up Earthy Hues or you can say Earthy Tones Lehengas for their wedding trousseau.  Earthy hues are not bright and are muted natural shades of soil,  grass and rocks, particularly in shades of grey blues, whites, light browns, tans, brick reds, some shades of green and faint cream and yellow.
Here are a few brides who looked absolutely Regal for their wedding in earthy tones lehengas and we are in total awe of their grandeur.
Real Brides In Earthy Tones Lehengas For Their Wedding Day
Bride @parnikabedi⠀
Shot by @whomeharaala⠀
Outfit @rimpleandharpreet⠀
Makeup @samairasandhu⠀
Photography: @meharphotography⠀
Makeup: @paveenarathour⠀
Hair: @h.headress⠀
Shot by @cupcakeproductions13⠀
Bride @deeptibajpai4⠀
Outfit: @payalkeyalofficial ⠀
Bride: @ombreeyes⠀
Outfit – @parulgandhilabel⠀
Makeup – @samairasandhu ⠀
Photography- @the_wedding_files⠀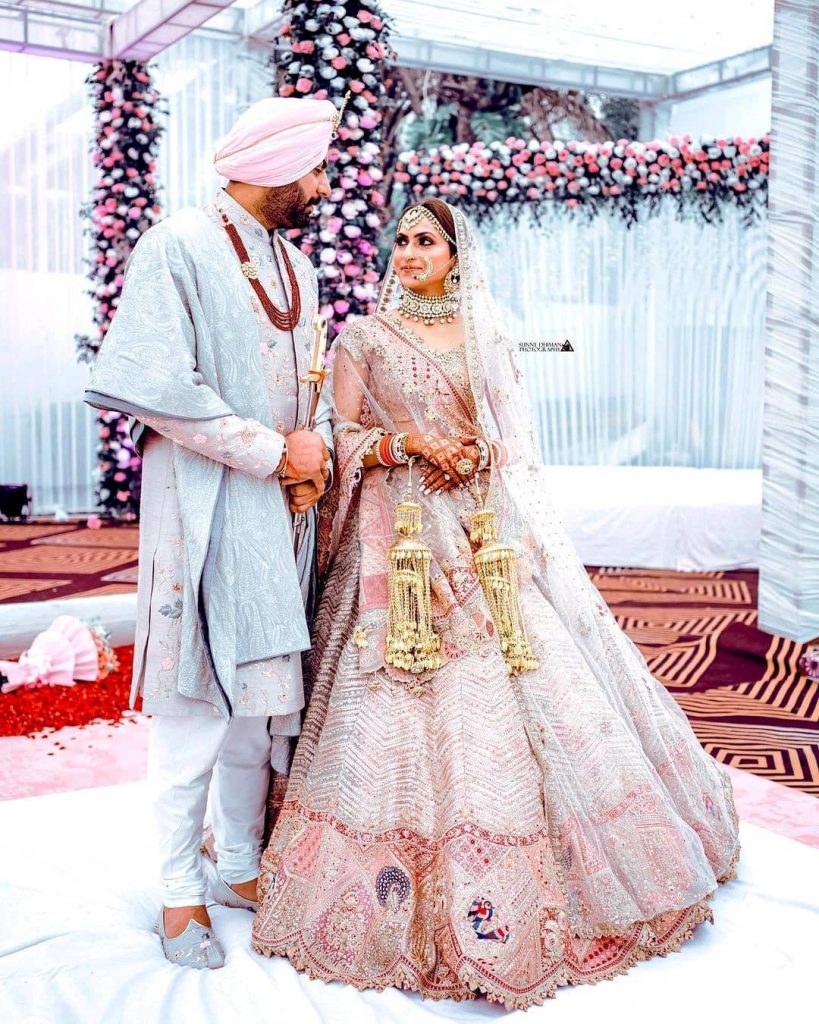 Outfit: @rimpleandharpreet⠀
Jewellery: @khuranajewelleryhouse⠀
MUA: @kohleyesbyjo⠀
Decor: @eventwalakapurthala⠀
Photography: @sunnydhimanphotography⠀

Bride Outfit: @rimpleandharpreet
Makeup: @dollyouup_bys
Venue: @hermitage_farms
Bride @mehandi_aggarwal⠀
Shot by @sam_and_ekta⠀
Bride's Outfit @rimpleandharpreet⠀
MUA @eltonjfernandez⠀
Jewellery @sunita_shekhawat_jaipur⠀
Beautiful bride @anishakhanna
Designer: @rimpleandharpreet
Jewellery: @mcjewels_
Makeup & hair : @ishakhannamakeup & @deepaksheshodiya
MUA @ulupiparikh
Outfit @rimpleandharpreet
Bride @vishwaa_21
Shot by @indianfootprints
Jewellery @sagar.jewellers
Shot by @dotdusk
Bride @ayuktathakur
Bride's Outfit @manishmalhotraworld
Bride: @srishtichadha10
Bride's Outfit: @thebridalparadise
Bride's jewellery: @jewelstreet.delhi
MUA: @rishabskhanna
Hair:@imrankhan60786
Bride @juhi.dedhia
Outfit @ketkidharod
Shot by @busybeestudio
Outfit @zahacouturepk
Outfit @the_rosegirl
Jewellery @ajewelsbyanmol
Location @grandimperialmohali
Muse @rehmatrattanofficial
Shot by @cheema.photography
Outfit @alixeeshantheaterstudio
Bride @anayats.sandhu
MUA @samairasandhu
Jewellery @jagdishjewellerspatiala
Outfit : Mohsin Naveed Ranjha
Aren't all of them too gorgeous and regal? Well, earthy tones are the biggest hit this season, you can try them in contrasting colours or pick a single earthy tone colour and add colour to your look by accessorizing it with coloured jewellery in Polki and Kundan. Moreover, If you are looking to have something other than pinks and reds then earthy tones lehengas are the perfect pick for you, elegant and edgy both at the same time.
Which one of the above did you love the most?